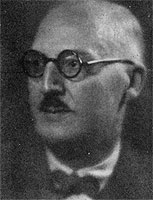 Eugène Printz, born in Paris on June 1, 1889, received no specialized academic training. It was in his father's workshop in the Faubourg Saint-Antoine, which he took over following his father's death, where he learned all the secrets of the craft by making copies of antique furniture. Starting from 1920, he began modern-style research. His first personal works debuted at the International Exhibition of Decorative Arts in 1925, where he exhibited with Pierre Chareau. From 1926, he exhibited at the Salons of Decorative Artists, Autumn and Tuileries; in 1931, at the Colonial Exhibition, he presented the office of Marshal Lyautey; at the 1937 exhibition, he participated in the Pavilion of Decorative Artists and organized the lighting at the Pavilion of Light.
Printz, who received numerous orders from the National Furniture and the City of Paris, has furniture in the Museum of Modern Art and the Museum of Decorative Arts. He created significant furniture sets for America, Mexico, England, and Belgium; he also arranged the private apartments of the Princess de La Tour d'Auvergne at the Château de Gros-Bois and the personal offices of Jeanne Lanvin in Paris.
Very interested in lighting - chandeliers, torchères, indirect lighting - he worked in this capacity for painters Marquet and. Finally, aside from his work as a decorator, he designed theatre sets for Louis Jouvet, particularly for "Domino" and "Jean de la Lune". Eugène Printz, who was a Knight of the Legion of Honour since 1937, died in Paris on March 27, 1948.
Eugène Printz was not only a perfect furniture technician, he worshiped furniture and from his youth, he familiarized himself with ancient masterpieces by constantly visiting museums, which determined his vocation. To him, furniture was a luxury object worthy of the finest materials and most scholarly refinements. He wanted it to be at the same time a good servant to the user and enjoyed inventing all sorts of ingenious, unexpected, and practical combinations.
If he used the rarest exotic woods, as well as palm, highlighted with gilded bronze, patinated, inlaid with precious enamels by Jean Serrière, large silver panels, delicately worked copper by Jean Dunand or entirely covered with Chinese lacquers by the same artist - whose son Pierre Dunand, continued the collaboration - faithful to a tradition of fine tirelessly experimented cabinetmaking, all his furniture was internally lined with sycamore, silky and smooth, like satin.
He particularly sought elegant volumes, sometimes scrolled, of furniture that he liked to present on a metal base with scholarly scrolls. Seats, showcases, small pieces of furniture were objects of constant interest to him. And while all his works were made in his workshop by specialized artisans, he always created himself, full-size, with all the decorative elements, the first model.
He also conceived the architectural layout designed to house his furniture and drew the designs for precious chiseled rugs. Passionate about his trade, about his art, with a very personal character, Eugène Printz intended to foresee the smallest details of the interior arrangements he organized with a lavish imagination.
Sources : Mobilier et Decoration N° 1 Fevrier 1955