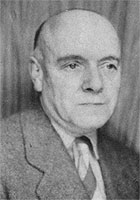 André Preston was born in Paris on June 4, 1892, into a family of artists: his father was an engineer-architect. Gifted at drawing and showing a taste for decoration from a young age, he joined Jémont, a renowned cabinetmaker of the time, as a student in 1907, where he studied and practiced all specializations of the trade, from cabinetmaking to chiseling and gilding.
After his military service and the war, he joined decorator Robert Poulet as a collaborator, then managed the Paris branch of Majorelle.
In 1932, he established himself independently and carried out shop installations and the interior decoration of apartments in Paris and villas in the provinces. A member of the Decorative Artists Society since 1926 and secretary of the Society's Bureau since 1952, he began to exhibit at the Salon of Decorative Artists after the Liberation and regularly at those of the Household Arts.
The State bought his sideboards and living room furniture, and ordered 80 rooms for the Girls' Home of the Ministry of National Education. Preston received plaques from the Society for the Encouragement of Art and Industry, the Prize of the Honorary Members of the Society of Decorative Artists and at the Decorators' Salon of 1953, focused on the hotel industry, the Prize of the Touring Club de France. He was also a founding member of the Union of Decorative Artists and Creators of Sets.
André Preston retained from his initial training a taste for fine cabinetmaking and traditional technical refinements. He likes exotic and domestic woods, preferably light in color. He believes in the decorative value of marquetry but conceived according to modern aesthetics. He gladly enriches his furniture with gilded or oxidized bronze, but assigns it less of an ornamental role than a protective one, like beading, shoe caps, lock entries, etc. Although convinced of the necessity for the decorator to intervene in the architectural layout of the home and that he designs his furniture in accordance with this layout, he loves furniture for its own sake and intends to preserve its individual and artistic value.
If by taste Preston prefers quality, even luxury furniture, sometimes covered with tapestry whose designs are provided to him, as well as those of the carpets, by Mrs. Preston, the problem of mass-produced furniture interests him and he devoted all his care to the realization in a team - with Jacques Dumond, Lesage, Caillette and Hitier of the rooms for the Girls' Home. From the color of the walls, the furniture, to the choice of fabrics, they designed all the elements of these "functional" rooms but they wanted to create - despite the economy of means - a harmonious, colorful, pleasant atmosphere that André Preston deems essential in the decorator's work, regardless of the rigor or sumptuousness of the problem to be solved. Traditional in his tastes, Preston appreciates synthetic materials and new techniques that often simplify work, are economical and contribute to the comfort and durability of the furniture.
Sources : Mobilier et Decoration N°5 Juin 1954