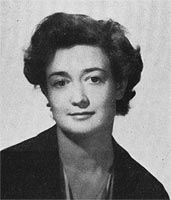 Geneviève Pons was born on September 21, 1924. She began her studies at the National School of Decorative Arts in 1941 and graduated in 1944 with a degree.
She spent two years, from 1944 to 1946, at the Art and Technical Center of the Nissim Camondo Museum.
From 1946 to 1948, she worked at the Primavera Workshop, of the Printemps Stores, led by Colette Guéden. After a trip to the United States, she spent a year in Ottawa, training in a large store. Upon her return to Paris, she established her own business and in March 1952, she was asked to lead "La Maitrise" at Galeries Lafayette, and to set up a department for selling furniture and objects specifically created and selected for this purpose.
Geneviève Pons, who has carried out private installations, has received various commissions from the National Furniture.
A member of the Society of Decorative Artists, she has participated in its exhibitions since 1947 and received the Plumet Prize in 1948 for her children's room, along with various awards from the Society for the Encouragement of Art and Industry. Geneviève Pons has been exhibiting at the Home Arts Salons since 1952.
Geneviève Pons confronts, with her youth and clear experience, the problems of home from their most current aspect. She is the decorator for young households that need to organize, almost always in limited space, with minimum resources, and she tastefully and ingeniously uses the means of expression offered by today's science and machinery, and those of the still vivid and capable traditional craftsmanship to soften the rigidity of industrial productions.
This is how she combines metallic tubes with smoothed fibers and lianas. She willingly contrasts native woods of different colors, ash and walnut, to which she fits rustic fittings of natural straw or dyed in bright tones. If the living room with its multiple uses inspires amusing and practical arrangements, the realm of childhood, from the nursery to two-bed rooms, curiously stacked and accessed by a perch ladder that offers the appeal of a game, is among her greatest successes.
Although she has had the opportunity to create specific furniture sets for particular destinations, she particularly strives to design furniture models for mass production, designed according to current needs: Sofa-Divan, Dressing Table-Desk, Banquettes-Beds, Wallet-Tables, etc.
All these rational combinations manage to maintain a friendly, youthful grace. Wall coverings or light partitions made of ash or abalone slats, pottery, hand weavings, wicker furniture or objects prove, with remarkable ease, that mechanical manufacturing and artisanal work can simultaneously contribute to the comfort of the home.
Sources : Mobilier et Decoration N° 9 Decembre 1955
Photo : Marcel Dupuis