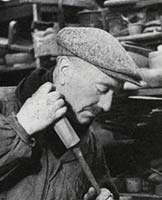 Alexandre Noll (1890-1970) was born in the Alsace region of France and was not involved in art until the 1920s. During World War I, he sketched, did watercolors but primarily made woodcuts. After the war was over, he began sculpting, starting with umbrella handles and lamp feet for couturier Paul Poiret.
In 1925 he took part in the International Exhibition of Modern Decorative and Industrial Arts, outlining a series of sculpted objects. In 1935 he began his "furniture sculptures," which were carved into sycamore, mahogany, teak and ebony. He participated in the 1937 International Exhibition of Arts and Techniques, showing a few small pieces. In 1939 he showed at the Salon des Artistes Decorators and the seventh Milan Triennale in 1940.
During World War II, Noll designed furniture and forged his style and was ready to produce his unique furniture by the time the war ended, but by the 1950s, Noll had returned to sculpture and took part in numerous exhibitions in France.
He is known for his natural style, his purity of form and in an approach that was both poetic and philosophically intuitive.