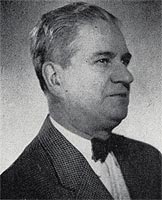 Jacques Mottheau was born in Paris on May 19, 1899. From 1915 to 1917, he attended the Special School of Architecture, then was mobilized until 1921. For three years, he worked in his father's bronze factory, then spent a year with the decorator A.A. Rateau, and joined D.I.M in 1927, whose director greatly influenced his artistic orientation.
In 1930, he set up with the painter Boberman. He has exhibited at the Autumn Salon since 1932, and at the Salon of Decorators from 1933. In 1935, Jacques Mottheau was appointed professor at the School of Fine Arts in Rennes and settled in Brittany. Until the war, he practiced his profession there, installed, among other things, a Fishing Meeting Place and a hotel in Rennes, but mainly devoted himself to the study of Breton crafts. Surveys, conferences, courses, etc.
At the Exhibition of 1937, he took an important part in the organization of the Brittany Pavilion and presented a Youth Hostel in the Decorators' Pavilion. Mobilized in 1937, he then returned to Rennes which he left in 1942. He was appointed Deputy Head of the Exhibition Office in the crafts service, participated in the survey on traditional furniture with G.-H. Rivière and P.-L. Duchartre. In 1948 he was appointed professor at the American School of Fine Arts in Fontainebleau, in 1950 at the Duperré Technical College, at the Normal Superior School of Technical Education, and in charge of courses at the Normal Superior School of Decorative Arts.
A member of the Superior Committee of Decorative Arts Education, Jacques Mottheau, who has received commissions from the State, notably for the Elysée, has been President of the Society of Decorative Artists since 1950 and Knight of the Legion of Honour since 1953. Bibliography: Jacques Mottheau, Everyday Furniture, 3 volumes, Paris, Albert Lévy, 1951. Jacques Mottheau has put into practice the aesthetic principles resulting from his craft experience in Brittany. In his furniture, of rustic vigour, in fine French wood, the traditional rhythms are found, stripped down, simplified, and a logical adaptation of certain mouldings and elements whose decorative value he appreciated in this Breton art, so well known that it has almost become his own.
However, although he has participated in all decorative art events since 1932, Jacques Mottheau has always tended to prioritize teaching in his activities, and especially causes of general interest. From 1935 to 1942 he dedicated himself to the problems of Breton craftsmanship, trying to revive and update its vitality. He was no more concerned with encouraging skilled craftsmen to repeat forms and ornamental motifs now devoid of meaning than he was with imposing models on them.
He undertook to guide them, to enable them to respond to new problems using regional techniques. This was an audacious task that required as much knowledge as it did will and taste.
This combative zeal, since he has been President, Jacques Mottheau has put at the service of the Society of Decorative Artists. The Society, according to his very logical convictions, should not only be organizing annual salons: it should become a test laboratory for French decorative art; a federation of all its disciplines. All efforts must be focused on developing a style that responds to social evolution and new needs.
Constant relationships with foreign artists must be established to broaden the field of research. This is a heavy task that, modestly, Jacques Mottheau considers more important than the personal work that he partly sacrifices for this apostolate.
Sources : Mobilier et Decoration N° 2 de 1954