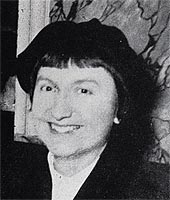 Paule Marrot (1902–1987) was a Parisian textile designer widely known for her textile prints with a flat, two-dimensional, upbeat style — often with a floral pattern. She experienced strong popularity in the U.S. after World War II, worked with Renault to develop the company's textile and color division, and redefined furnishing fabrics in her native country of France.
Marrot won the Prix Blumenthal in 1928 and in 1952, the French Légion d'honneur (Legion of Honor), as Chevalier.
Born Paule Félicie Hélène Marrot in Bordeaux on 17 April 1902, — to a bohemian family with a musician father — Marrot attended L'école des Arts Décoratifs in Paris at age 14 and in 1917 apprenticed in engraving and textile printing with Pierre Léon Dusouchet. Marrot became a teacher and was selling some of her original textile designs when she met Raoul Dufy, a Fauvist painter, who in turn introduced her to Paul Poiret, a prominent fashion designer at the time — to whom Marrot subsequently sold a dress design — and ultimately fabric for his work.
In 1924 she was admitted to the Société des artistes décorateurs (Society of Decorative Artists), and married her childhood friend, Paul Angelloz, who became her business manager.
In 1925 she won a gold medal for her contributions to the Worlds Fair's International Exposition of Modern Industrial and Decorative Arts.
Winning the Prix Blumenthal in 1928 allowed Marrot to open her workshop in Batignolles on at 34 rue Truffaut — where she became widely known for furniture textiles.
In 1932 her work was exhibited in the Salon des Artistes Decorateurs show came to the attention of Jean Schlumberger, an Alsacian texile manufacturer with Manufacture Steiner de Ribeauvillé. Schlumberger became her exclusive printer and a devoted friend for 30 years until his death in 1963. Together they produced over 320 fabric designs and numerous table linens. Marrot moved her operation to rue des Arcades in 1936.
After the war, she reopened the rue des Arcades store and in 1945 resumed production with Ribeauvillé. Working with Margaret Owen, she established the import of her textiles to the USA — Jacqueline Kennedy subsequently designing a living room around Marrot's Les Tulipes cotton print. From 1953-1965, Marrot consulted with Renault, prioritizing color and fabric coordination for the company and establishing their interior and exterior paint and textile labs.
In May, 1959 she exhibited her she work at Stockholm's Artek gallery, which had distributed her line of 104 printed fabrics and 28 tablecloths since 1935. From 1961 to 1968 Marrot collaborated with Zofia Rostand, whose student she had been in 1960.
In 1973, Marrot exhibited 82 fabrics and tablecloths at the Exposition au Musée d'impression sur Etoffe de Mulhouse (Museum of Printed Textiles at Mulhouse), working with Fauve painter Raoul Dufy.
Paule Marrot died on 22 December 1987.
1999 saw the creation of Editions Paule Marrot Ltd which became SAS Editions Paule Marrot in 2002, reissuing more than 320 fabrics from Marrot's career along with numerous tablecloths and towel designs, a total of more than 450 designs.
In 2005, Carolina Irving wrote a story about Marrot for Better Homes and Gardens and in 1997 the Museum of Printed Textiles at Mulhouse held a retrospective of her work.
Marrot designs have since been used extensively under license by companies as diverse as Nike, Anthropologie and the handbag maker, Hayden-Harnett. In 1952, she won the Legion of Honor.