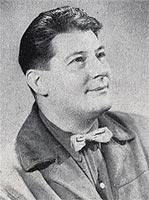 Gustave Gautier, born on April 30, 1911 in Nantes, started drawing at a very young age with his grandfather Edouard Robert, a master printer in Nantes.
Attracted to architecture, he entered the École des Beaux-Arts in Nantes. In 1931 he was in Paris and chose, at the National School of Decorative Arts, the architecture section.
While still at school, he came into contact with the Union of Modern Artists (U.A.M.) and finally worked for René Herbst where he found the spirit and moral support he was looking for. At the 1937 Exhibition, he obtained his first official reward for his collaboration in the book section presentation (National Library).
The war interrupted his studies and early artistic activities. He returned from the German camps in 1945 and reconnected with the U.A.M. but abandoned architecture for decoration, the evolution of which better matched the orientation of his research and tastes. From 1947, he exhibited at the Salon d'Automne (U.A.M. section) then at the Salons of Home Furnishings and Decorator Artists where he presented his modular furniture and continued to participate in Paris and abroad in decorative art events.
In addition to interior design for apartments, villas and luxury stores, especially in Brittany, he collaborated with manufacturers on the production of modular furniture. A member of the U.A.M., the Salon d'Automne Company, Decorator Artists, the Union of Ensemble Decorator Artists and the Association of Modular Furniture Designers, Gustave Gautier received awards in 1949 and 1952 from the Society for the Encouragement of Art and Industry.
Gustave Gautier's aesthetic tastes and beliefs naturally led him to the U.A.M group and his internship with René Herbst cemented his commitment to principles he embraced wholeheartedly. Faithful to principles of absence of decoration, rational forms adapted both to use and architectural framework, he immediately imprinted them with his personality. Gustave Gautier liked robust, simple volumes and knew how to achieve interesting decorative effects from functional elements. He wanted the furniture to be part of the wall, to have a tangible, logical link with the architecture of the room, which was sometimes encircled by a wood frame serving as beams, curtain boxes or allowing indirect lighting, the only kind he used since he abhorred lamps which he prohibited. His furniture itself was often balanced by a sort of frame while the partitions were almost always transparent, revealing books here, "natural" "seashells", "butterflies", "fossils", "sand roses", stoneware or glassware which brought, alongside the rigor of the forms, the sensitive element.
Moreover, mirrors played an important role in his furniture, particularly in his small portable tables. As for fabrics, he liked them sober and generally plain or finely striped. Fireplaces were also the subject of his research, he found them essential for the comfort and rhythm of a room.
Although these various aesthetic concerns, refinements and a very pronounced taste for beautiful materials were part of luxury installations, he then preferred to use light-colored woods, sycamore, cherry, lemonwood varnish. At the same time, Gustave Gautier specialized in the design and study of modular furniture series produced on a large scale but in which his taste for a humane and generous rationalism always asserted itself.
Sources : Mobilier et Decoration N° 8 Novembre 1954
Photo : Jean Collas / Molinard