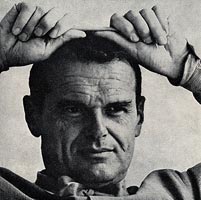 Charles Ormond Eames, Jr, (June 17, 1907 – August 21, 1978) briefly studied architecture at Washington University in St. Louis on an architecture scholarship. After two years of study, he left the university. Many sources claim that he was dismissed for his advocacy of Frank Lloyd Wright and his interest in modern architects. The university reportedly dropped him because of his "too modern" views. Other sources, less frequently cited, note that while a student, Charles Eames also was employed as an architect at the firm of Trueblood and Graf. The demands on his time from this employment and from his classes led to sleep-deprivation and diminished performance at the university.
While at Washington University, he met his first wife, Catherine Woermann, whom he married in 1929. A year later, they had a daughter, Lucia Jenkins.
In 1930, Charles began his own architectural practice in St. Louis with partner Charles Gray. They were later joined by a third partner, Walter Pauley.
Charles Eames was greatly influenced by the Finnish architect Eliel Saarinen (whose son Eero, also an architect, would become a partner and friend). At the elder Saarinen's invitation, Charles moved in 1938 with his wife Catherine and daughter Lucia to Michigan, to further study architecture at the Cranbrook Academy of Art, where he would become a teacher and head of the industrial design department. In order to apply for the Architecture and Urban Planning Program, Eames defined an area of focus—the St. Louis waterfront. Together with Eero Saarinen he designed prize-winning furniture for New York's Museum of Modern Art "Organic Design in Home Furnishings" competition. Their work displayed the new technique of wood moulding (originally developed by Alvar Aalto), that Eames would further develop in many moulded plywood products, including chairs and other furniture, splints and stretchers for the US Navy during World War II.
In 1941, Charles and Catherine divorced, and he married his Cranbrook colleague Bernice ("Ray") Kaiser, who was born in Sacramento, California. He then moved with her to Los Angeles, California, where they worked and lived until their deaths. In the late 1940s, as part of the Arts & Architecture magazine's "Case Study" program, the Eames designed and built the groundbreaking Eames House, Case Study House #8, as their home. Located upon a cliff overlooking the Pacific Ocean and hand-constructed within a matter of days entirely of pre-fabricated steel parts intended for industrial construction, it remains a milestone of modern architecture.
Charles Eames died of a heart attack on August 21, 1978 while on a consulting trip in his native Saint Louis, and was buried in the Calvary Cemetery there. He now has a star on the St. Louis Walk of Fame.