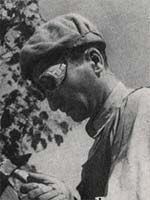 On the outskirts of Île-de-France, on the edge of Beauce, in a tranquil and green valley - the nearest train station is 5 kilometers away and the bus no longer runs - lies a hamlet of about twenty peasant houses: twenty tiled roofs, just as many simple facades... However, one of them is adorned with a niche housing a modern statue, both supple and powerful: it is the house of Deluol, "a sculptor gentleman," as the peasant who pointed it out to the author of this text said.
André Deluol: one of the youngest representatives of contemporary art, and perhaps one of the best, because he is outside of any school, an independent artist, and if the term hadn't been overused, one would say: a self-taught artist.
Originally from Valence, he came to Paris at a young age to study painting and entered the School of Fine Arts, but the academic teaching did not suit his character... This beginner wanted to tackle the major issues of his art right away, particularly the question of relief, which troubled him; and to solve it, as soon as he knew how to hold a brush, he wanted to try out some personal techniques; students and professors then came to see on his easel how one could become a victim of the third dimension!
It caused a general uproar, but it was also an opportunity for Deluol to understand that he may not have "chosen the right path". He then purchased sculpting tools and bravely began carving stone.
Like our medieval image makers, who would have been surprised to hear about modeling, he never once thought of working with plaster or clay first... "All the beauty I knew from museums," he said, "everything I saw on the facades of monuments, at the entrances of cathedrals, everything that had withstood the centuries and the criticism of mankind was only the product of direct carving.
In Greece, it was Phidias who marked the beginning of decline by abandoning this method; and if he escaped with honor, it's because he had started there, while his disciples and successors quickly fell into naturalism... The ultimate art is not to copy nature. "The opposite phenomenon occurred in pagan Rome at the beginning of the Christian era: the sculptors, despite possessing dazzling techniques, stagnated while in the catacombs, simple men devoid of artistic culture began to carve stone with their own hands to make a cross that would dominate their altar, an adorned fish... They dared to tackle the material, and that was the birth of Christian art, with all the potential cathedrals in their chisels. Only direct carving allows us to overcome the difficulty encountered by the mind when it comes to expressing its thoughts in solid form."
And Deluol concluded: "If we want to experience an artistic renaissance, I would say we must reject all current techniques and follow the example of our ancestors."
He has no preference between stone and wood. Since transporting materials is nearly impossible, he relies on local resources...One day, triumphantly, he brought back an old abandoned tombstone found on the edge of the cemetery; a few weeks earlier, he exhibited at his friend Adnet's two statues that had originated from a granite curbstone.
But, evidently, he prefers marble. He left his Paris studio for a peasant house he had purchased shortly before the war.
Without taking away its rustic character, he "adapted" it to his needs. An annex serves as his studio; but for seven months out of twelve, he works outdoors (that's one of the advantages of direct carving) and leaves the last brood, part hens and part ducks, to occupy the studio alone. And one of the lesser attractions of this home is to be in the presence of so many animals that one is not accustomed to seeing so familiar... and who do not always respect the sculptures scattered randomly based on the artist's whims; and isn't it through contact with all this life that Deluol's work derives its humanity?
The love of life is indeed evident in his home as well as in his work: the attic serves as his living room, ceremonial bedroom, and fruit store; in fact, it's the room of a pirate!
Here, souvenirs of travels hang, there relics of the past; the trappings of dreams coexist without any hindrance with the instruments of reality. There is no snobbery in this assembly, but rather the mark of a curious spirit eager for novelty.
After all, isn't his sculpture an expression of movement?
But much has already been said about the man and his work. Some have thought "Renaissance," others have mentioned Carpeaux! Let's simply say that he is a fine artist who works in harmony with the Île-de-France sky!
Sources : Images de France N° 106 de Mars 1944
Texte : pierre Noiraye
Photos : Jahan