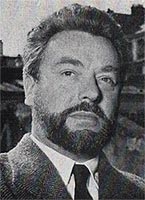 Yves Cuvelier, born on June 9, 1913, in Haubourdin (Nord), began painting at a young age under the guidance of his mother, who was related to the painter J.-B. Monnoyer. In 1929, he entered the School of Fine Arts in Lille, where he won prizes and medals. In 1932, he was admitted to the School of Fine Arts in Paris, under the tutelage of Dewambez. However, he found the conventional teaching of this master unsuitable and decided to leave for Morocco, where he dedicated himself to painting, particularly portraits, for eighteen months.
He returned to France to fulfill his military service and in 1935, he resumed his studies at the School of Fine Arts. From 1936 to 1939, he became a student of Charles Guérin, from whom he gained much knowledge. He received a state scholarship, won a first prize, and exhibited at the Tuileries.
Mobilized in 1940, he later returned to painting but shifted towards decoration, focusing on model-making and furniture ensembles. Following his marriage in 1941 to Geneviève Dupuis, a student at the School of the Rue Duperré, he embarked on the creation and production of upholstery and couture fabrics in collaboration with his wife, who remained his collaborator. In 1942, he set up his studio.
Since 1945, Yves Cuvelier has participated in the Salons of Imagerie and Artistes Décorateurs, of which he is a member, as well as various exhibitions abroad. In 1949, he was appointed professor of drawing and painting at the National School of Fine Arts in Nancy. While continuing to teach, Cuvelier devoted himself definitively to his profession as a decorator. He collaborated with Dumond, Lesage, Renou and Genisset, Preston, Old, and others on numerous furniture ensembles. His fabrics have gained wide recognition and distribution internationally.
Yves Cuvelier's initial training, which always remained rooted in painting, naturally prepared him for his specialization. He has experimented with the harmony of color values and developed a particular sense of mural art. In addition to these necessary artistic skills, he has acquired precise knowledge of his new profession. He has studied the crucial question of chemical dyes and, in this field, sought to apply the latest scientific discoveries that ensure absolute resistance to air, light, and washing.
For printing, he has adopted the technique of silk screening, creating individual frames for each color. In his Parisian studio, he personally oversees the printing and testing of each new design. Yves Cuvelier's fabrics are distinguished by the solid brightness of pure and powerful tones, often accentuated with black. His dense compositions, free of heaviness, do not allow for any background. Even white, when it appears, plays the role of a color. His themes, often on a grand scale, are occasionally inspired by nature—tall tree trunks, branches, leaves, or flowers—interpreted and stylized in a broad manner. However, he primarily employs vigorous linear arrangements with geometric motifs that tend towards an ornamentation that is somewhat close to abstraction.
The fabric's thick cotton serge or satin materiality gives his fabrics, primarily intended for wall hangings or curtains, weight and warmth, which effectively complement the intentional simplicity of pure volumes without decorations, typical of contemporary furniture ensembles.