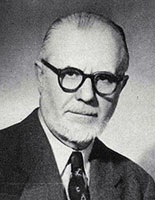 René Buthaud, born on December 14, 1886, in Saintes, began his studies at the Bordeaux School of Fine Arts. He later moved to Paris, where he attended courses at the National School of Decorative Arts and the School of Fine Arts from 1909 to 1914. He studied painting and intaglio engraving and won the second Grand Prix de Rome in Engraving in 1914.
Mobilized from 1914 to 1918, after the war, he turned to ceramics and began extensive research in various areas, which he continued throughout his career. He exhibited at the Salon
of Decorative Artists and the Salon d'Automne and won the Blumenthal Prize in 1920. At the 1925 International Exhibition of Decorative Arts, he was a participant outside the competition and a member of the jury.
Since 1928, his works have been permanently exhibited at the Rouard Gallery. He received an honorary diploma at the 1937 Exhibition. Since 1925, René Buthaud has participated in decorative art exhibitions in France and abroad.
From 1924 to 1926, he directed the ceramic factory of the Atelier Primavera in Touraine. Since 1931, he has been a decoration professor at the Bordeaux School of Fine Arts. René
Buthaud's works can be found in Paris at the museums of Modern Art and Decorative Arts, the Ceramic Museum of Sèvres, and abroad in Brussels, Copenhagen, Munich, Cairo, Detroit, Tokyo, and more. René Buthaud has been a Knight of the Legion of Honor since 1937.
René Buthaud is passionate about ceramics. While he prefers the works of old Chinese potters, he appreciates the spontaneity and freshness of folk art and has a particular fondness for African art. This demonstrates the eclectic nature of René Buthaud's tastes. He was also a painter and engraver, and although his name has been associated with charming stanniferous faience figurines inspired by marine mythology, such as mermaids, tritons, and nereids, the entirety of his work goes well beyond ceramics.
Nevertheless, René Buthaud has left his mark on this delicate art with his personality and a graceful virtuosity that draws on sculptural techniques for elegant volume and rhythm, as well as on painting techniques for brilliant and distinguished colors. Not to mention the poetic and almost literary verve that enlivens the grace of his figurines.
At the same time, René Buthaud received commissions from the City of Bordeaux for four monumental mosaic vases (five meters tall) for the Stadium, two large stained glass windows for the Wine Salon of Bordeaux, and numerous decorative ceramic elements for schools. Additionally, in Bordeaux, he was entrusted by the Monuments Historiques with the reconstitution of two 18th-century clock dials (1.40 meters in diameter) in faience, which had been destroyed by bombings and adorned the Palais de la Bourse. The artist's diverse activities, freed from narrow specialization, still leave room for studies, research, and the delights of the collector, perhaps the most jealously guarded aspect.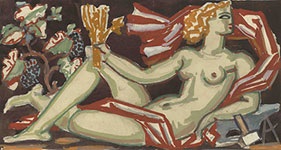 Buthaud exemplifies the ease with which early-twentieth-century artists began to cross the rigid barriers between the fine and the decorative arts. Trained in painting and etching at the École de Beaux Arts in Paris, he later won a Prix de Rome. Such classical training likely influenced his proclivity for the female figure, as did his friendship with the artist Jean Dupas, who, following World War I, encouraged his interest in ceramics.
In 1923 Buthaud established the ceramics division of Primavera, the decorating and interior design division of the Au Printemps department store. There, he developed his particular style, incorporating figurative imagery visually integrated with bulbous forms.
Beginning in 1928 he supplied works to Maison Georges Rouard, a noted vendor of ceramics and glassware located in the fashionable rue de l'Opéra. Buthaud rarely conceived his pots as utilitarian wares but rather treated them as decorative works of art—canvases in the round.
Sources : Mobilier et Decoration N° 9 Decembre 1955
Photo : Pierre Bardou