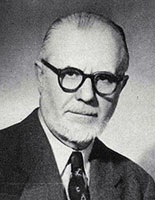 Buthaud exemplifies the ease with which early-twentieth-century artists began to cross the rigid barriers between the fine and the decorative arts. Trained in painting and etching at the École de Beaux Arts in Paris, he later won a Prix de Rome. Such classical training likely influenced his proclivity for the female figure, as did his friendship with the artist Jean Dupas, who, following World War I, encouraged his interest in ceramics.
In 1923 Buthaud established the ceramics division of Primavera, the decorating and interior design division of the Au Printemps department store. There, he developed his particular style, incorporating figurative imagery visually integrated with bulbous forms.
Beginning in 1928 he supplied works to Maison Georges Rouard, a noted vendor of ceramics and glassware located in the fashionable rue de l'Opéra. Buthaud rarely conceived his pots as utilitarian wares but rather treated them as decorative works of art—canvases in the round.