Jean Adnet was born on April 20, 1900, in Châtillon-Coligny (Loiret). He was the twin brother of Jacques Adnet, and they received the same training and collaborated on various projects together, achieving the same accolades under a shared signature until 1928.
Jean Adnet graduated from the National School of Decorative Arts, where his mentors were Aubert (decoration) and Genuys (architecture).
After completing his military service, he joined his brother at the Maitrise, which was then led by Maurice Dufrène. From 1923 onwards, the two brothers exhibited at the Salon des Artistes Décorateurs and participated in the 1925 International Exhibition in various sections, where they received numerous awards.
In 1926, they were awarded the Blumenthal Scholarship for French Thought and Art. While Jacques succeeded Sue and Mare as the Director of the French Arts Company in 1928, Jean Adnet was appointed as the director of the important display department at Galeries Lafayette.
As an active member of the Society of Decorative Artists and a member of the Salon d'Automne, Jean Adnet also exhibited at the Salon du Dessin et de la Peinture à l'Eau since 1950, where several of his watercolors were acquired by the state. He also served as a lecturer at the National School of Decorative Arts and was tasked with presenting the Textile Exhibition in Lille in 1950 and the Union of Textile Industries Exhibition in London in October 1954.
Jean Adnet has been a Knight of the Legion of Honor since 1950.
Although Jean Adnet has dedicated himself entirely to the art of window dressing since 1928, it should be noted that he has not given up his former profession as a set designer. Occasionally, he continues to participate in significant exhibitions of decorative art with high-quality furniture and impeccable taste.
However, it is in his mission at Galeries Lafayette that he has affirmed his personality for over 25 years. Furthermore, it should be noted that he was one of the first to renovate, almost invent, the art of window displays, disrupting routines and prejudices, and creating a "street museum" that demands the skills of a stage director from the decorator. It requires imagination, fantasy, and attentive opportunism, constantly tested against the fluctuations of fashion and seasons. The means of expression, such as light, color, shape, and accessories, are both intangible and material, and the artist must manipulate them like a realistic magician.
Today, we are accustomed to this daily enchantment designed to attract, seduce, convince, and sell.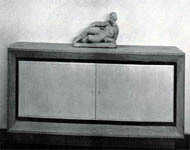 However, it should not be forgotten that this art had to be organized from scratch. Initiatives, audacity, and efforts like those of Jean Adnet, now supported by a team of young artists he has trained, have greatly contributed to the reputation of French taste and spirit in a domain that was initially uncertain, particular, unexpected, and almost secondary. Jean Adnet has been a brilliant and tireless messenger of French taste and spirit to the world.
Sources : Mobilier et Decoration N° 8 Novembre 1954
Photo : Jean Collas