On may 11th, 2000, Maxime Old's reference book came out in libraries for easy public access: « Maxime Old, 1910-1991, architecte décorateur, Editions Norma » by Yves Badetz. Even though the content of this book is full of important and rare documentation, it is also the source of false expertise made, not only by auctioneers, but also by many different art galleries worldwide.
An undocumented case
At DOCANTIC, we investigate the proper identification of 20th Century furniture, and provide accurate documentation. Here's an example from our case files!
Considering that the majority of books edited and dedicated to artists of the XXth century contain a multitude of errors, this very book contains only one error. Accordingly, the PATROL insists on paying homage to the author. Perfectionist Yves Badetz's reputation definitely reflects the excellence of his work. However, since even the smallest errors spread around the art market at the speed of a bullet, the Patrol believed it was necessary to correct it, without questioning the brilliance of Yves Badetz' work.
Even though pointed out and rectified by Olivier Old, Maxime Old's son, and artist's rights holder, the information does not seem to have been taken into consideration by the art market players. This is why the PATROL has decided to take action to defend the reputation of auctioneers, art galleries and collectors worldwide, all victim of this attribution error.
This specific mistake is illustrated on page 87: (Exhibit #1). This piece of furniture is NOT one of Maxime Old's!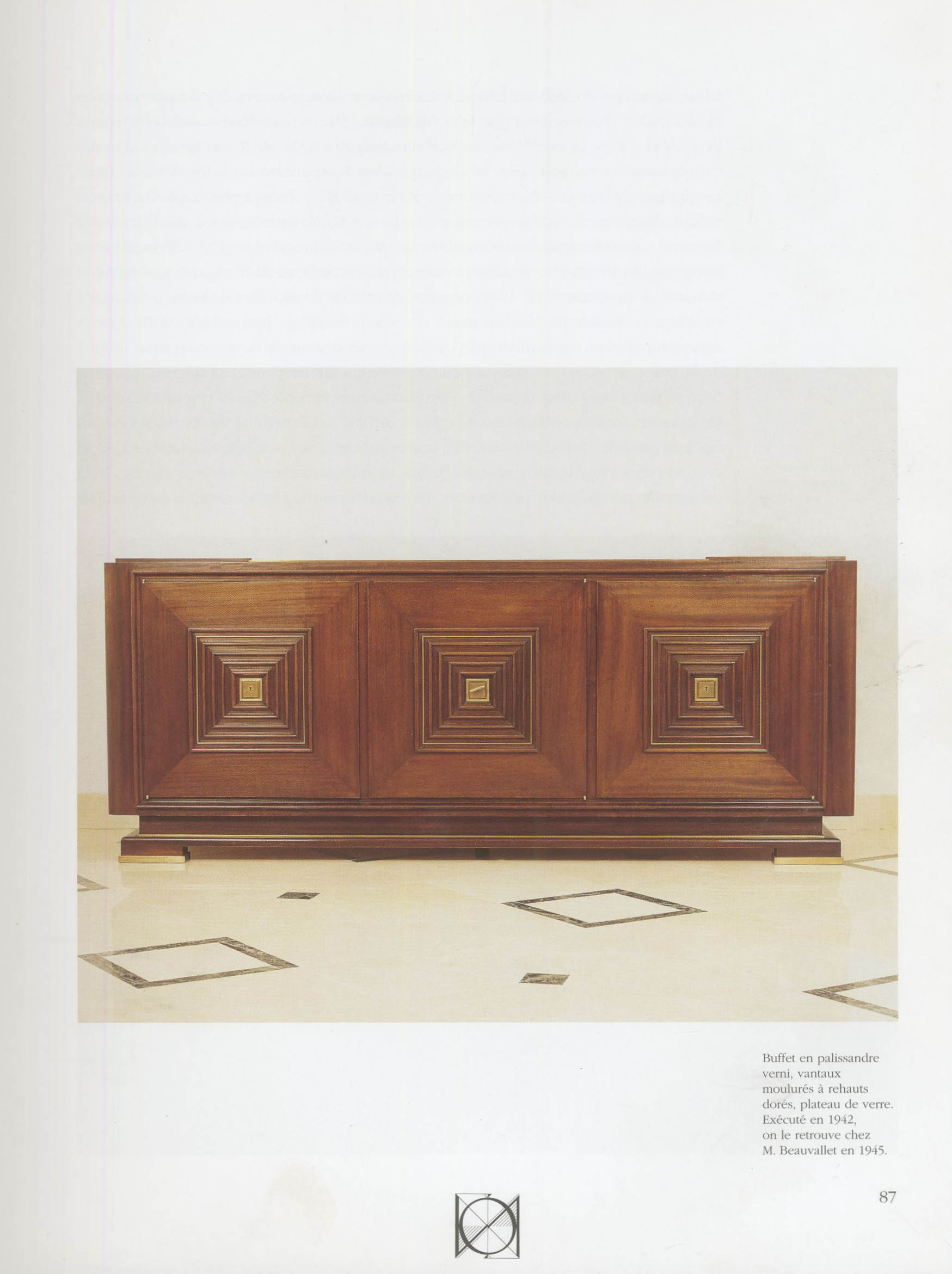 Exhibit #1
Shortly after the release of the book, DOCANTIC determined two key characteristics depicting the false attribution of the buffet to its artist:
1. The unique value of each step taken. Even though subjective, the buffet falsely attributed was precisely compared and contrasted to several of Maxime Old's art pieces published in historical books and documentation. The balance, the technique, the poetry … nothing matches! #Rustic
2. The overall quality. All of Maxime Old's work is reputed for its confidentiality, its singularity, usually custom made. However the buffet depicted here, as well and its derived models are numerous on the art market as well as in several art galleries. #Incoherence
Following these observations, the PATROL took it upon itself to contact Olivier Old, aka agent double 0, who not only confirmed our hypothesis, but also insisted on adding two additional pieces of evidence to our investigation:
3. There is no evidence of this piece of furniture in the artist's archives.
4. Olivier Old published an article on this case on his own website (Exhibit #2).

Exhibit #2
It is clear that the author of this book wanted to illustrate one of Maxime Old's drawings on page 86 (issued to him by Maxime Old's archives, Exhibit #3). However, if the similarities between the drawing on page 86 and the piece of furniture on page 87 are easily noticeable, their differences are shockingly apparent.
Exhibit #3
If we were to follow the author's train of thoughts regarding the similarities shared by the drawing and the pieces of furniture, the drawing depicted on page 86 could as easily represent Roger Landault's (Exhibit #4), Baptiste Spade's (Exhibit #5) and Dominique's buffet (Exhibit #6)…
Exhibits #4, #5 & #6
On another note, neither the text nor the source from the book supports the author's theory. In fact, the text represents the photo illustrated on page 87 very poorly. As for the sources, the photo comes from an art gallery in Clermont-Ferrand; but according to Olivier Old, the author "wasn't able to confirm the picture's source". Gray area.
Chain reactions
On top of the publication, several auctioneers sincerely believed they attributed their cabinet to the right artist. As a result, the vast number of victims of this false attribution, ended up with falsely attributed pieces of furniture.
The Patrol's archives listed all the sales of this buffet and its similar models made in auctions between 2002 and 2016. Amongst the victims figure an important number of French auction houses.

Exhibit #7
According to French researchers, in January 2016, a derived model of the 3-doors buffet was presented in an auction. Once the PATROL informed, we decided to contact Olivier Old, in order to get, once more, his opinion on the subject. Here is his answer:

"I confirm that nor the sideboards, nor the chairs are from my father. […]"
Exhibit #8
Page 87 has once again pushed the PATROL to work its magic upon its mistaken information.
Old is beautiful
This case once again supports DOCANTIC's old theory: If the historical documentation published during the lifetime of the artist, is a reliable source, the publications that follow are manipulated with precaution.
Even the best of us could accidently commit errors. Fact is, it even happened to talented Yves Badetz, despite his strong knowledge and expertise.
As of today, auction houses are still figuring out a way to verify their sources' liability, which is what DOCANTIC is all about: Defend, Serve and Protect the art market by allowing whoever wishes to access our documentation database!
Appeal for witnesses
It is now a certainty that Maxime Old did not create this buffet and its many derived models. However the PATROL is still, to this day, not able to put an artist's name on this piece of furniture. No irrefutable evidence was found in order for us to associate this buffet with its correct artist.
If you think you possess any type of historical proof allowing us to render unto Caesar what's his, you are welcome to let us know by filling out this form, and help us solve the enigma. Let's team up to get rid of dangerous errors that prowl around the art market.
How do we classify our files? Find out here.

Book 'em! The auction house or the art dealer provided little or no corroborating evidence in the form of documentation for this item.

Time Off! The expert made a significant mistake on this item. His attributed period came in way off. No early parole!

Missing persons alert! The auction house or the art dealer failed to uncover and identify the artist for this item.

Identity theft! They're guilty of the worst crime of all: mislabeling the artist with another alias. And Picasso painted the Mona Lisa, right?!
The Fact Sheet on DOCANTIC PATROL
The obsessive, nitpicky and no-holds-barred investigative team at DOCANTIC maintains an unparalleled database of original documentation for 20th Century, Art Nouveau, and Art Deco & Design furniture and works of art.
At DOCANTIC we believe that designers deserve proper identification for each work they have created, and that any art lover should confidently pay the right price for his or her purchase. We see the art world filled with both talented artists and con artist and, therefore, also riddled with innumerable attribution errors and outrageous pricing mistakes. By supplying authentic period photographs, DOCANTIC catches and apprehends the undervaluation (or overvaluation) of furniture and works of art. That's our mission. We stop errors dead in their tracks. We serve and protect 20th Century furniture's reputation.
Headquartered in Los Angeles, DOCANTIC sets the bar for the identification of 20th Century furniture, and shares with every art lover the information that has been kept under wraps by a handful of experts for far too long!