On June 2015, French auction house AGUTTES sold a chest by André Arbus but failed to provide significant literature & books references. We fixed this!
At DOCANTIC, we investigate the proper identification of 20th Century furniture, and provide accurate documentation. Here's an example from our case files!
AGUTTES got pulled over by DOCANTIC PATROL for calling in a weak witness violation: Poor Literature!
On June 17th, 2015, a parchment covered chest of drawers by designer André Arbus, was sold at AGUTTES for $82,000. At auction, one reference from a 1996 book accompanied the chest: "André Arbus Architecte Décorateur des Années 40" by Yvonne Brunhammer. In the art market, solid references for artwork increase the work's value. The more references as evidence, the better the return on the investment! The bigger selling point is when the main witness can reference back to the same period in which a piece was created, such as a publication from around the same date as the furniture's first appearance.
In AGUTTES's case, a book from 1996 does not quite carry the same historical significance as, say, a catalog from 1937. At DOCANTIC, our detectives searched through our extensive database, and found 5 antique catalogs from the late 1930s, containing the same André Arbus chest. DOCANTIC located a furniture catalog called "Mobilier & Décoration", illustrated below, that contains an article on the André Arbus chest from 1936.
Now, if this reference had been paired as an accomplice with the chest sold at the June 2015 AGUTTES auction, the chest could have possibly been sold for even more than $82,000. Money left on the table.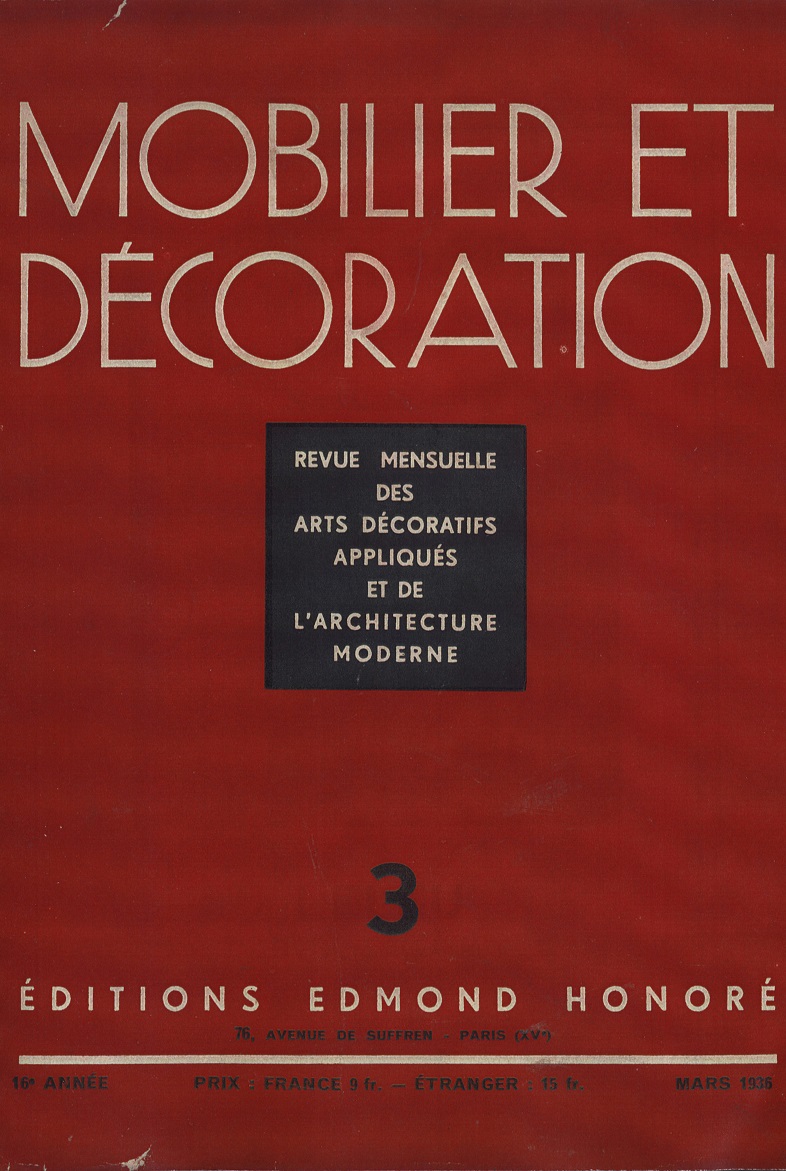 Documenting the original designer of furniture or art remains arguably one of the most important actions that can determine a piece's value, and whether or not a collector/investor will buy it. Surely, supporting facts for a work of art can heavily sway an interested collector to purchase it. We've been eye-witnesses to that.
DOCANTIC patrols the market to make sure that 20th Century furniture and works of art receive proper attribution and accurate documentation, so that collectors may sell and/or purchase works at the correct price. To protect and to serve the art community, that's out job!
How do we classify our files? Find out here.

Book 'em! The auction house or the art dealer provided little or no corroborating evidence in the form of documentation for this item.

Time Off! The expert made a significant mistake on this item. His attributed period came in way off. No early parole!

Missing persons alert! The auction house or the art dealer failed to uncover and identify the artist for this item.

Identity theft! They're guilty of the worst crime of all: mislabeling the artist with another alias. And Picasso painted the Mona Lisa, right?!
The Fact Sheet on DOCANTIC PATROL
The obsessive, nitpicky and no-holds-barred investigative team at DOCANTIC maintains an unparalleled database of original documentation for 20th Century, Art Nouveau, and Art Deco & Design furniture and works of art.
At DOCANTIC we believe that designers deserve proper identification for each work they have created, and that any art lover should confidently pay the right price for his or her purchase. We see the art world filled with both talented artists and con artist and, therefore, also riddled with innumerable attribution errors and outrageous pricing mistakes. By supplying authentic period photographs, DOCANTIC catches and apprehends the undervaluation (or overvaluation) of furniture and works of art. That's our mission. We stop errors dead in their tracks. We serve and protect 20th Century furniture's reputation.
Headquartered in Los Angeles, DOCANTIC sets the bar for the identification of 20th Century furniture, and shares with every art lover the information that has been kept under wraps by a handful of experts for far too long!