On May 2013, French auction house ARTCURIAL sold a wooden armchair by Jules Leleu, but failed to provide significant literature & book references. We fixed this!
At DOCANTIC, we investigate the proper identification of 20th Century furniture, and provide accurate documentation. Here's an example from our case files!
ARTCURIAL got pulled over by DOCANTIC PATROL for calling in a weak witness violation: Poor Literature!
On May 28th, 2013, ARTCURIAL auction house sold a Jules Leleu wooden armchair for $5,300. ARTCURIAL accurately attributed the work to Jules Leleu. However, ARTCURIAL had neglected one important fact of furniture ID investigation — securing the most persuasive of witnesses: period catalog and book references.
Because Jules Leleu was one of the most prestigious French furniture designers of the 20th Century, catalogs from this time period that contain images of his furniture would surely exist. An established auction house like ARTCURIAL certainly has the facilities and specialized departments able to concentrate on researching furniture and designers. Unfortunately, the only reference they included with the Jules Leleu armchair sold in the May 2014 sale, came from a 2007 book by Francoise Siriex titled Leleu: Decorateurs Ensembliers. A rather late date for an early testimony. ARTCURIAL's inclusion of only one catalog reference—and that from the 21st Century–demonstrates their lack of care and thoroughness to investigate and valuate antique furniture. Guilty.
Our diligent detective team at DOCANTIC filtered through our vast database on 20th Century design to uncover this Jules Leleu armchair in four different catalogs, dating back as early as 1960. Below, you can see the cover of one of the vintage catalogs, Mobilier & Décoration, in which the wooden armchair appeared. We gladly turned in the eye-witness doc from Leleu's own period.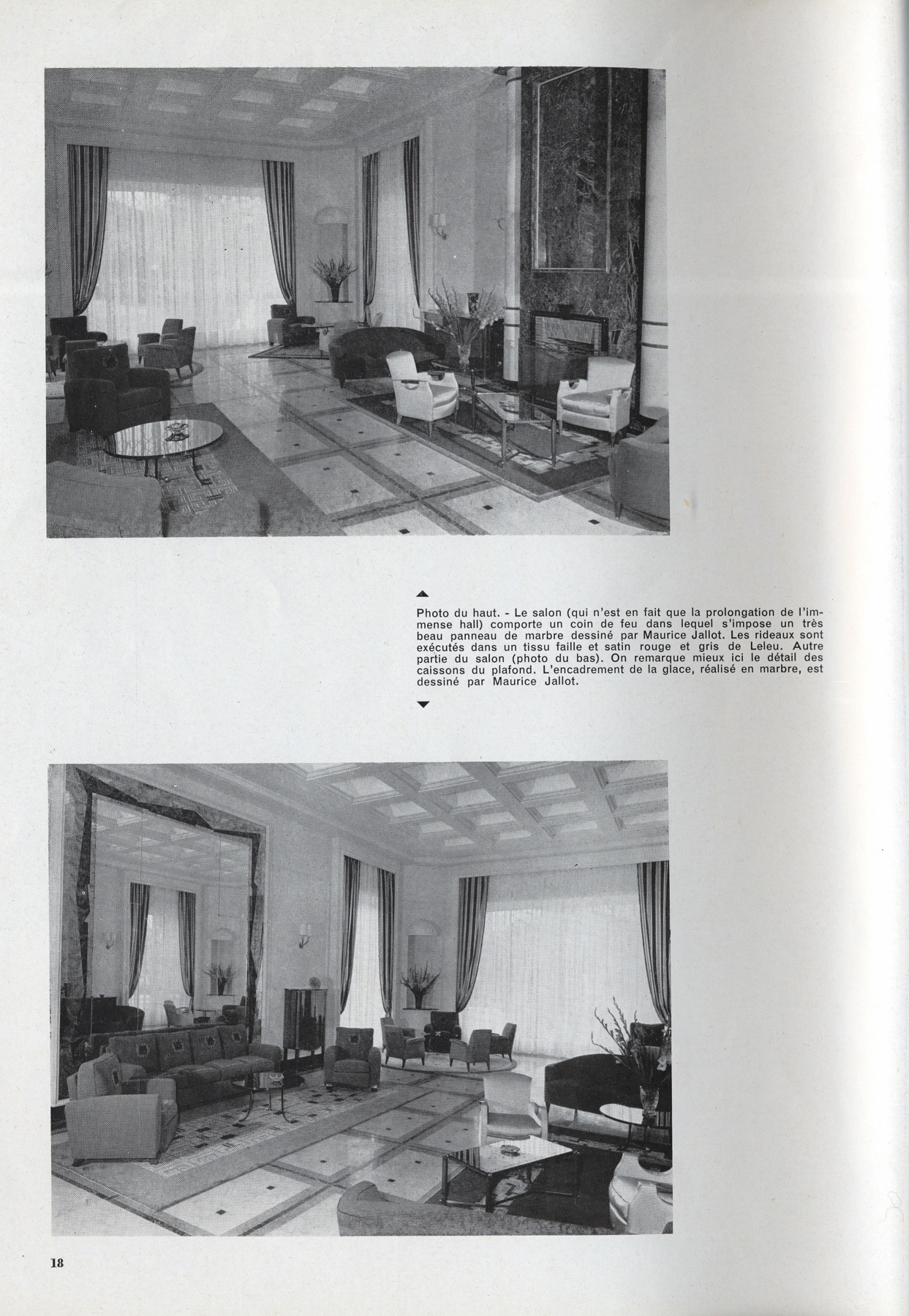 Buyers and art collectors desire as much research and proof as necessary for artwork, because it informs them of the price they should buy or sell a piece. For ARTCURIAL, having additional period references would have surely increased the price of the Jules Leleu armchair. Few artists from the early 20th Century have a say in what price their artwork should fetch for at auction. Therefore, the art world considers it crucial and most respectable to see belabored artwork bought and sold at a fair and appropriate price.
DOCANTIC patrols the market to make sure that 20th Century furniture and works of art receive proper attribution and accurate documentation, so that collectors may sell and/or purchase works at the correct price. To protect and to serve the art community, that's out job!
Crimes et délits fréquemment commis (plus d'infos ici) :

Défaut de papiers ! L'expert n'a pas fourni de preuves documentaires recevables. Verbalisé !

Acte de sorcellerie ! L'expert a fait une erreur significative de datation. Une affaire paranormale pour Mulder & Scully ! Gardé à vue !

Disparition de témoin ! Aucun artiste n'a été identifié par l'expert. Alerte enlèvement, comparution immédiate !

Usurpation d'identité ! L'œuvre a été incorrectement attribuée à un tiers. Et Picasso a peint la Joconde, hein ?! Ecroué !
La Fiche d'Information de la DOCANTIC PATROL
The obsessive, nitpicky and no-holds-barred investigative team at DOCANTIC maintains an unparalleled database of original documentation for 20th Century, Art Nouveau, and Art Deco & Design furniture and works of art.
At DOCANTIC we believe that designers deserve proper identification for each work they have created, and that any art lover should confidently pay the right price for his or her purchase. We see the art world filled with both talented artists and con artist and, therefore, also riddled with innumerable attribution errors and outrageous pricing mistakes. By supplying authentic period photographs, DOCANTIC catches and apprehends the undervaluation (or overvaluation) of furniture and works of art. That's our mission. We stop errors dead in their tracks. We serve and protect 20th Century furniture's reputation.
Headquartered in Los Angeles, DOCANTIC sets the bar for the identification of 20th Century furniture, and shares with every art lover the information that has been kept under wraps by a handful of experts for far too long!