On May 2006, SOTHEBY'S auction house — close to becoming more popular than Pablo Escobar since it got pulled over so many times by the DOCANTIC PATROL — listed a sideboard estimated at $330,000 and incorrectly attributed to the famous designer Jules Leleu. We fixed this!
At DOCANTIC, we investigate the proper identification of 20th Century furniture, and provide accurate documentation. Here's an example from our case files!
SOTHEBY'S got pulled over by DOCANTIC PATROL for Identity theft violation: wrong artist!
On May 16, 2006, the world famous auction house SOTHEBY'S has attributed to the famous designer Jules Leleu a sideboard estimated at $330.000. Curiously close in design to the lesser known, Maurice Rinck, the DOCANTIC PATROL investigators took care of this case.
The shagreen entirely covering the incriminating evidence was the first clue that the DOCANTIC PATROL found. Its quality is so marvelous that SOTHEBY'S even advertised it on the front cover of their auction sale catalog.
By digging deeper, the DOCANTIC PATROL discovered that such a great work of art created by a world class designer in a material as rare and delicate as shagreen was in the 30's, should have been somehow photographed at the time it was created. The Zodiac Killer, Jack the Ripper, the Joker and many others have all proudly admitted their crime; so as a designer, why would Jules Leleu have kept secret one of his greatest masterpieces?!
Yet, no one was able to uncover any bibliographical evidence attributing this work of art to Jules Leleu, so far. In contrast, if it is by Maurice Rinck it would have been made in the 50's; and not having any mugshot of it in DOCANTIC archives room would make sense, since shagreen was much more commonly used then.
Jules Leleu being part of the almost-exclusive jurisdiction of Francoise Siriex, investigators have decided to interrogate her. Former personal assistant of André Leleu — Jules Leleu's son — and active member of the 30's Museum of Boulogne-Billancourt (FRANCE) confirmed that the piece of furniture offered for sale by SOTHEBY'S was not by Jules Leleu.
To support her claim and close the case for good, the investigators managed to find a similar version of the wrongly attributed sideboard in a November 1954 copy of "Mobilier et Décoration".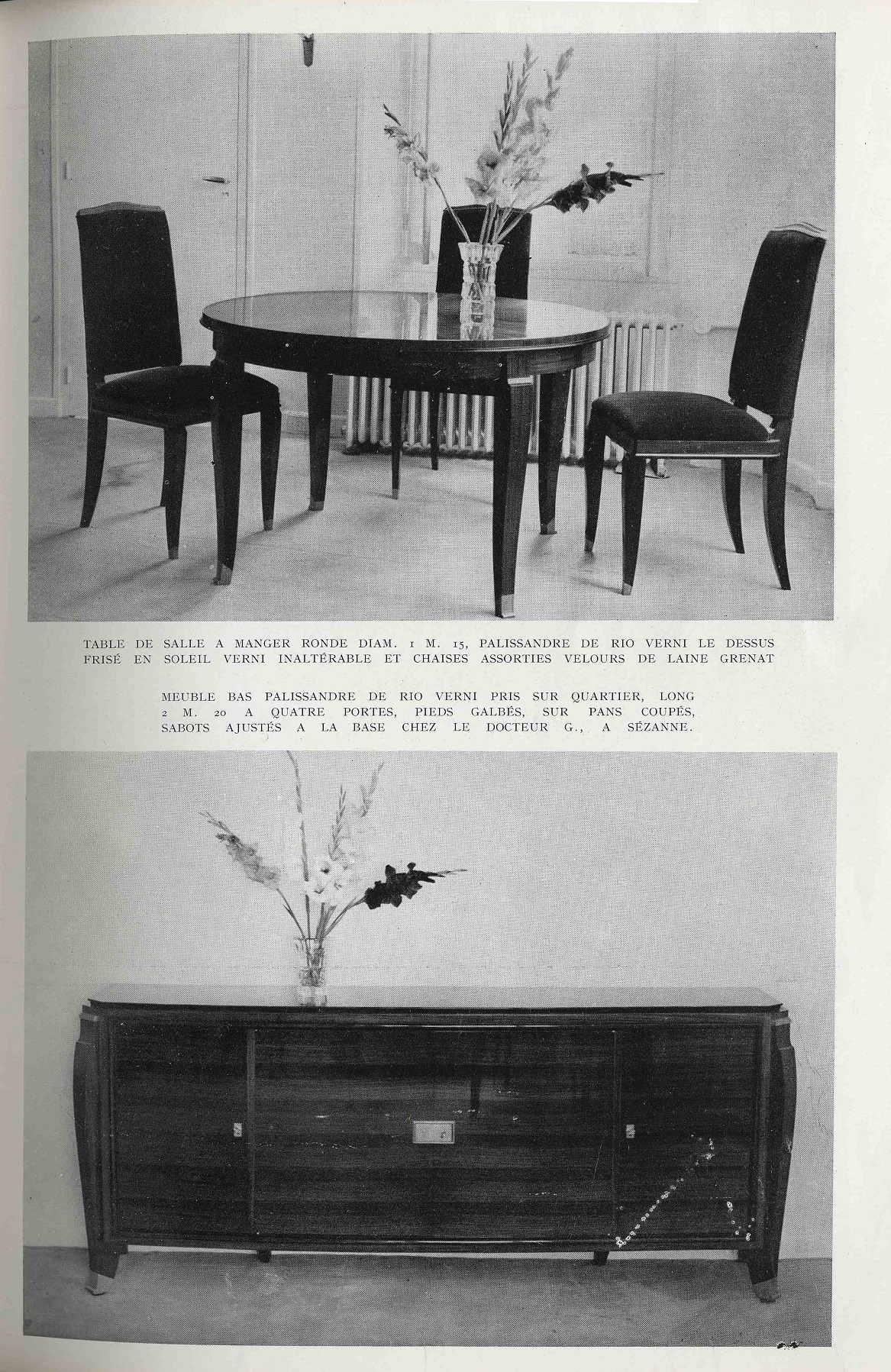 This proof confirms SOTHEBY'S crime and allows DOCANTIC to give Maurice Rinck his stolen artworks back.
Documentation proof in hand, Francoise Siriex went to meet SOTHEBY'S experts at their HQ shortly before the auction to inform them about the crime they were about to commit. The incorrectly assigned to Jules Leleu sideboard was placed under proper seal. Withdrawn from auction sale: SOTHEBY'S plaid guilty!
DOCANTIC patrols the market to make sure that 20th Century furniture and works of art receive proper attribution and accurate documentation, so that collectors may sell and/or purchase works at the correct price. To protect and to serve the art community, that's our job!
How do we classify our files? Find out here.

Book 'em! The auction house or the art dealer provided little or no corroborating evidence in the form of documentation for this item.

Time Off! The expert made a significant mistake on this item. His attributed period came in way off. No early parole!

Missing persons alert! The auction house or the art dealer failed to uncover and identify the artist for this item.

Identity theft! They're guilty of the worst crime of all: mislabeling the artist with another alias. And Picasso painted the Mona Lisa, right?!
The Fact Sheet on DOCANTIC PATROL
The obsessive, nitpicky and no-holds-barred investigative team at DOCANTIC maintains an unparalleled database of original documentation for 20th Century, Art Nouveau, and Art Deco & Design furniture and works of art.
At DOCANTIC we believe that designers deserve proper identification for each work they have created, and that any art lover should confidently pay the right price for his or her purchase. We see the art world filled with both talented artists and con artist and, therefore, also riddled with innumerable attribution errors and outrageous pricing mistakes. By supplying authentic period photographs, DOCANTIC catches and apprehends the undervaluation (or overvaluation) of furniture and works of art. That's our mission. We stop errors dead in their tracks. We serve and protect 20th Century furniture's reputation.
Headquartered in Los Angeles, DOCANTIC sets the bar for the identification of 20th Century furniture, and shares with every art lover the information that has been kept under wraps by a handful of experts for far too long!