On September 21st 2016, the patrol received a little poem by SOTHEBY'S Paris, that touched the entire patrol's team (Exhibit #1)
Translation:
Your articles are pathetic.
Please remove me from your automatic notifications.
Cecile *******
Sent through Iphone
Exhibit #1
When receiving this message, the patrol first thought that Sothebys lost its cool after reading Docantic's article regarding Tajan's error. It is quite shocking that SOTHEBY'S could be this unprofessional and insulting. In fact, confusing an American Aquarium for a Jean Royere table is a proof of "pathetic work" and extreme unprofessionalism.
Since our way of pointing out the error of attribution made by auction houses seems to be hurtful to some, this article will therefore be called the " REAL FAKE " at auction!
On October 20th 2006, SOTHEBY'S estimated a set, desk and armchair for $21,600 as one of Maxime Old's, from the Anthony Ingrao collection (Exhibit #2.)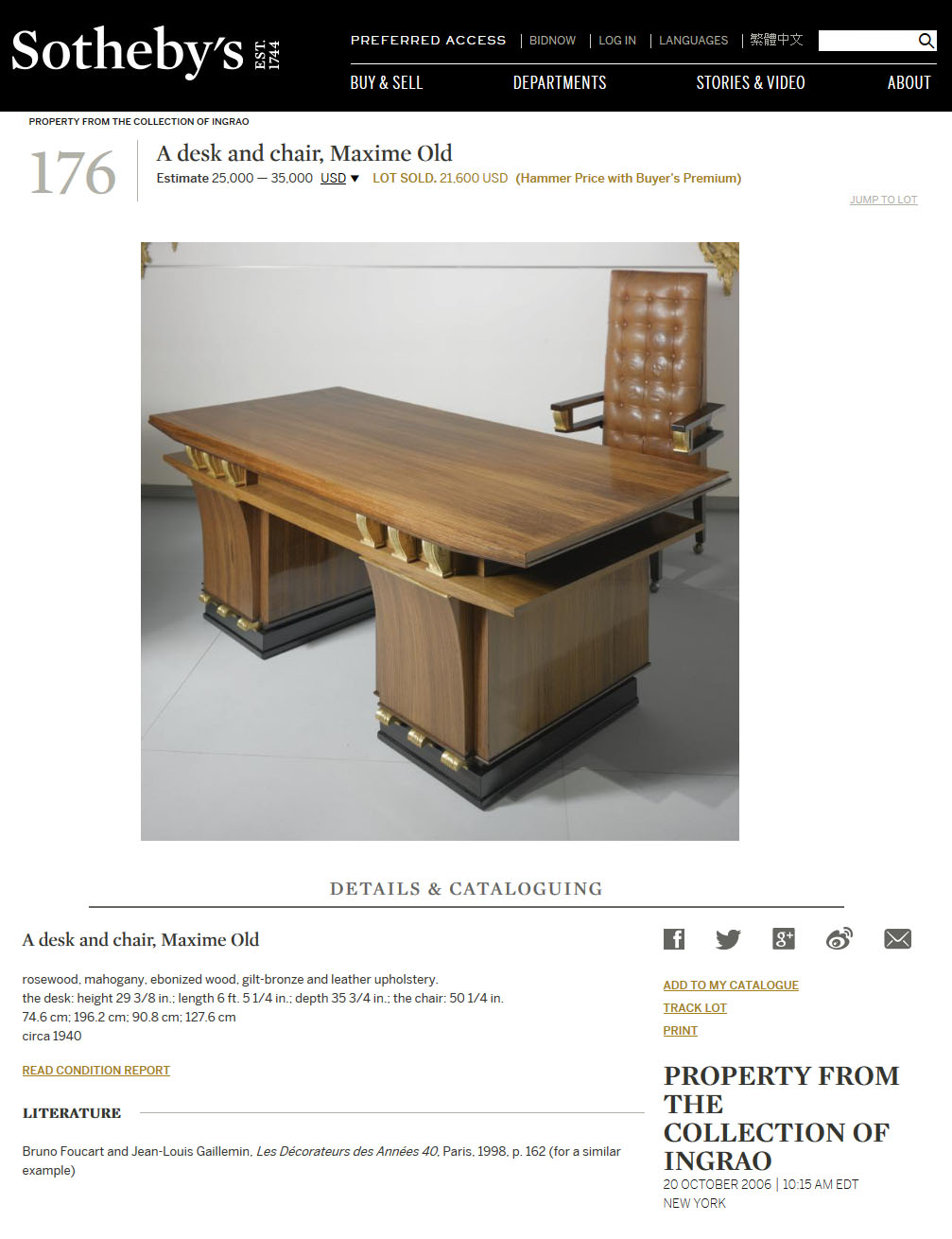 Exhibit #2
The same set made came back at auction on April 8th 2013 at DOYLE, a New-York based auction house, who sold it for $10,000 buyer's premium included (Exhibit #3.)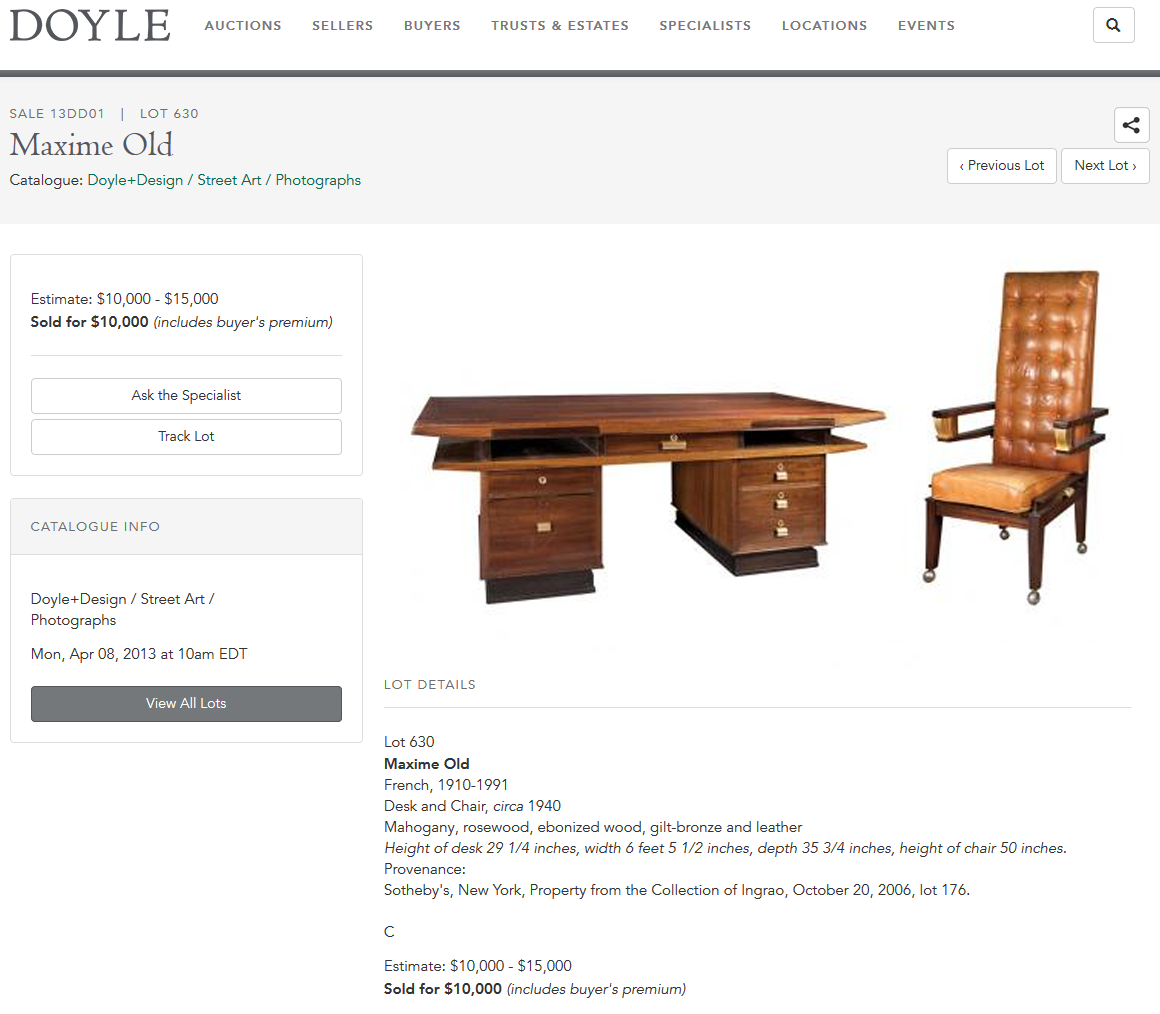 Exhibit #3
The first buyer then lost approximately $12,000 in the process.
This is a case for the Patrol: It all starts with a detailed analysis. SOTHEBY'S knows how important documentation is, and therefore decides to attribute some documentation to this pair. According to Sothebys, this desk is similar to the one published in Bruno Foucart's and Jean-Louis Gaillemin's book, Les Décorateurs des années 40 (Exhibit #4.)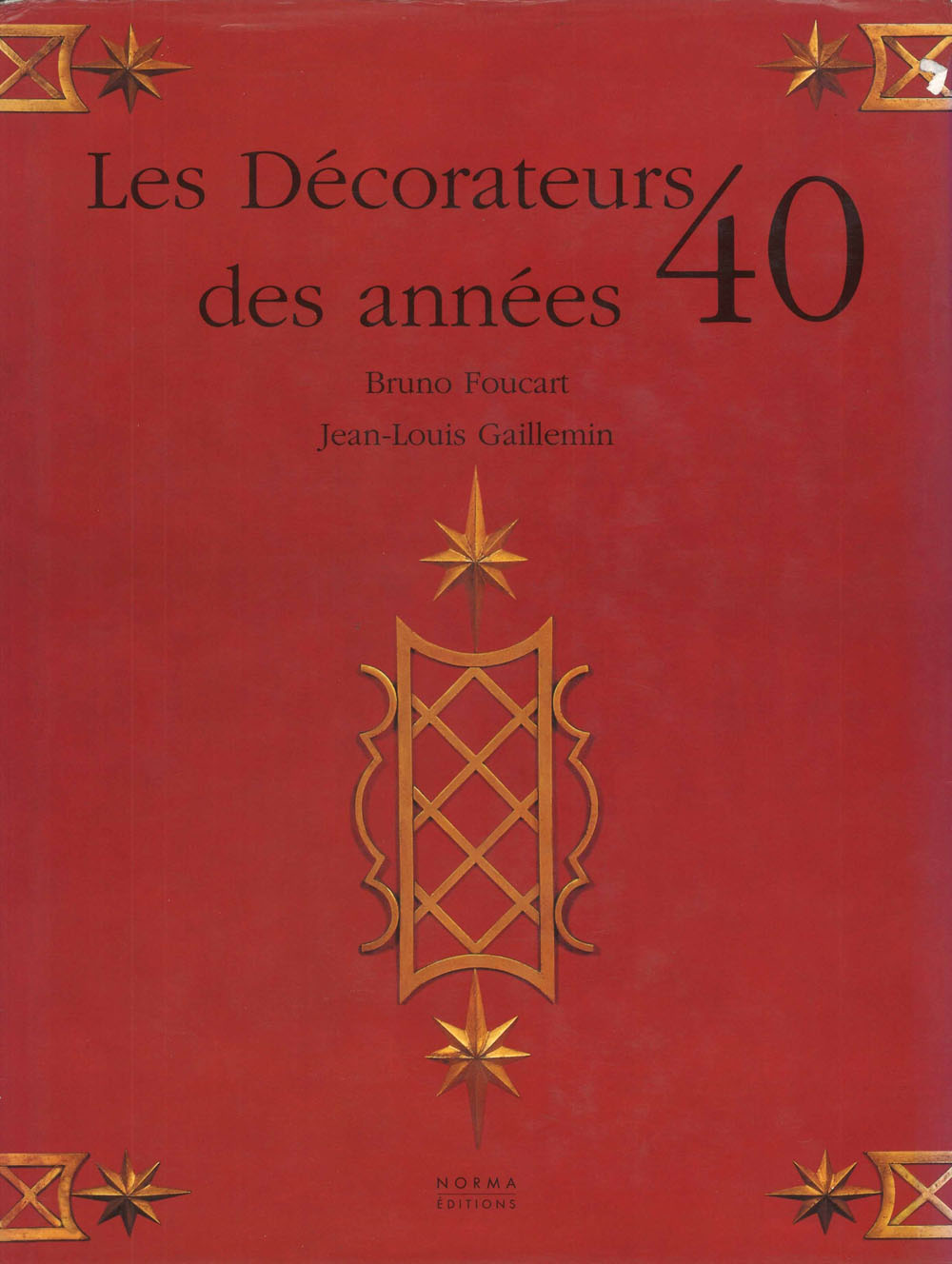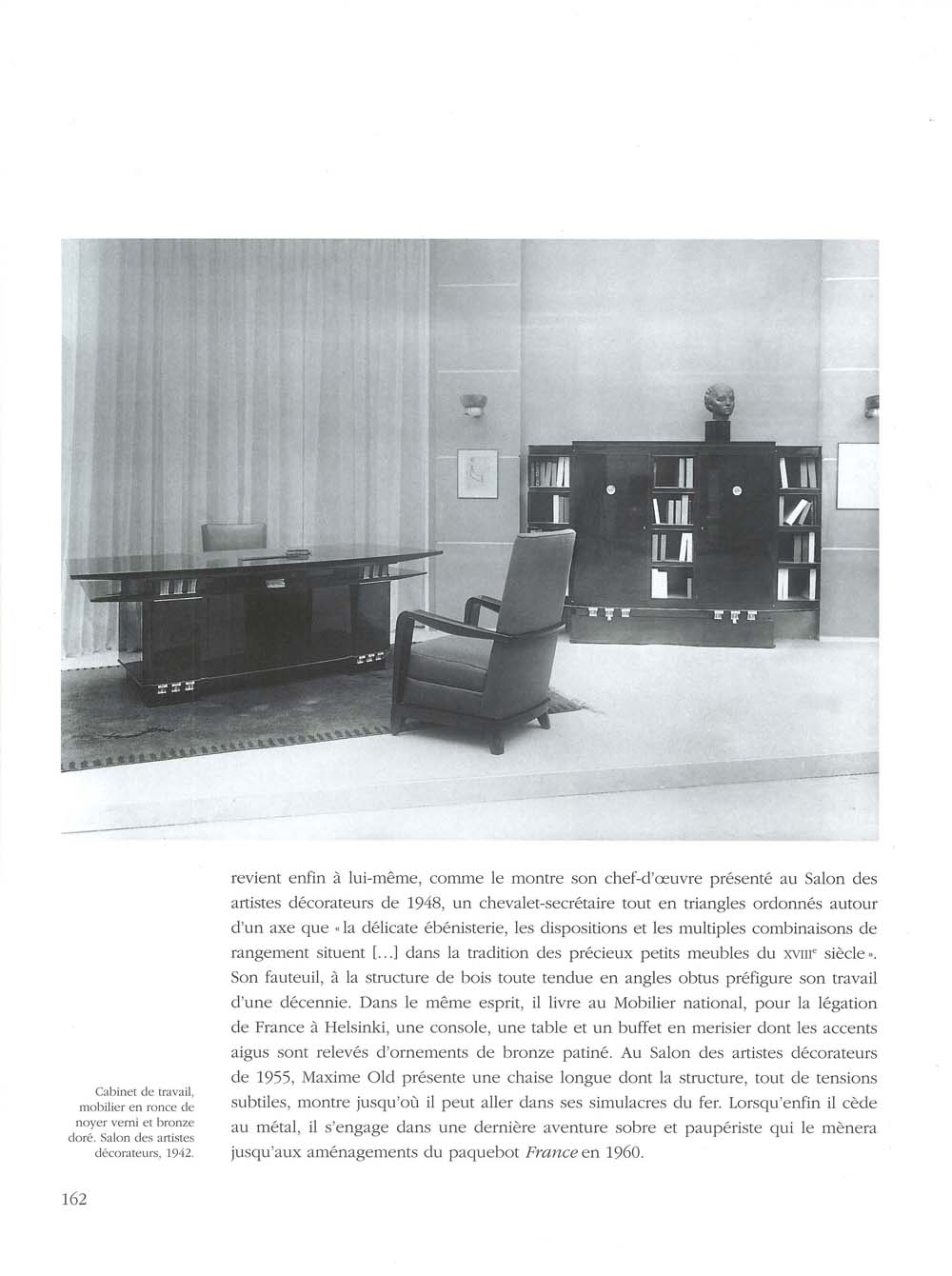 Exhibit #4
Illustrated on page 162 is a photo of an older desk originating from Old's family collection. Docantic can indeed confirm the information with its own documentation (Exhibit #5)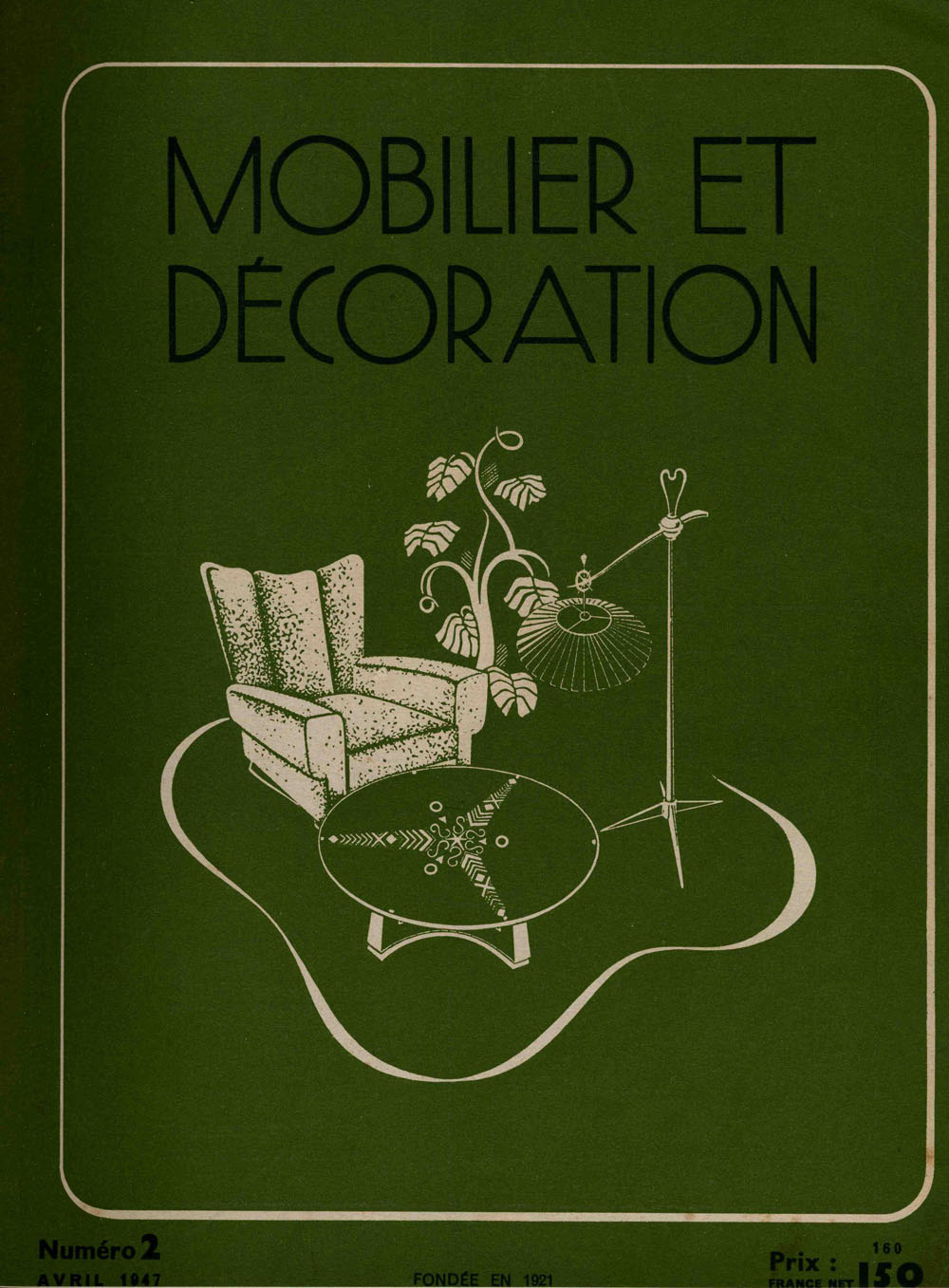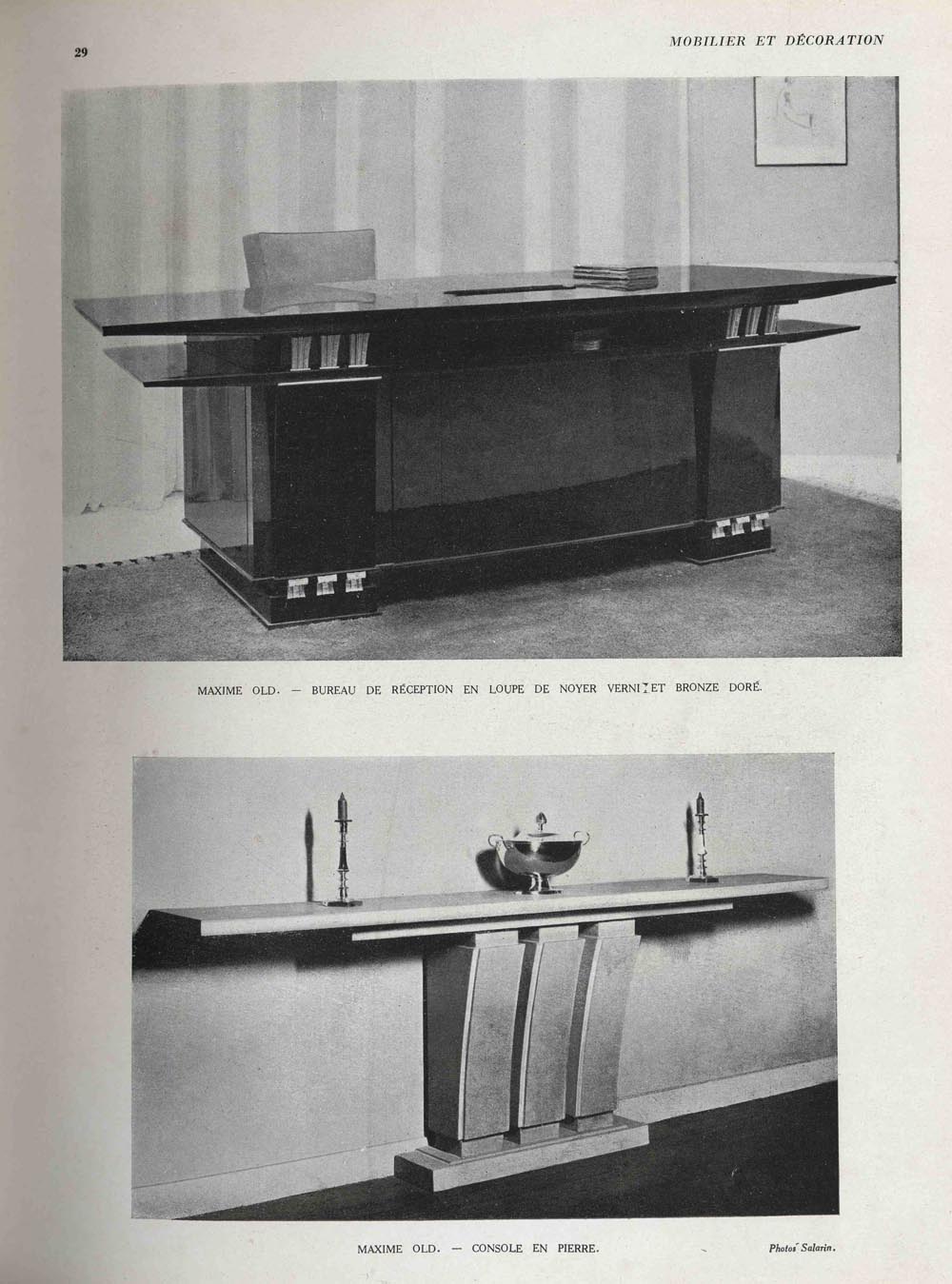 Exhibit #5
There is no doubt about it; the desk represented in this book is in fact one of Maxime Old's. But saying that this is the one sold by SOTHEBY'S and DOYLE, is another story. Let's compare them:
Neo-classical, double plates, there are indeed some "similarities." However, if the "experts" had taken the time to open their eyes, then maybe they would have notice that the basic elements that would make it one of Old's artwork, were missing: The portions, the elegance, the very meticulously put together lines that represent Maxime Old… These elements are what any person who has at least a little bit of knowledge on Maxime Old, would look at before attributing something to him.
Additionally, more details can differentiate these two desks: The thickness of the plates, the shape of the golden columns, or simply the elegance of the panel that joins the two bases together (Exhibit #6)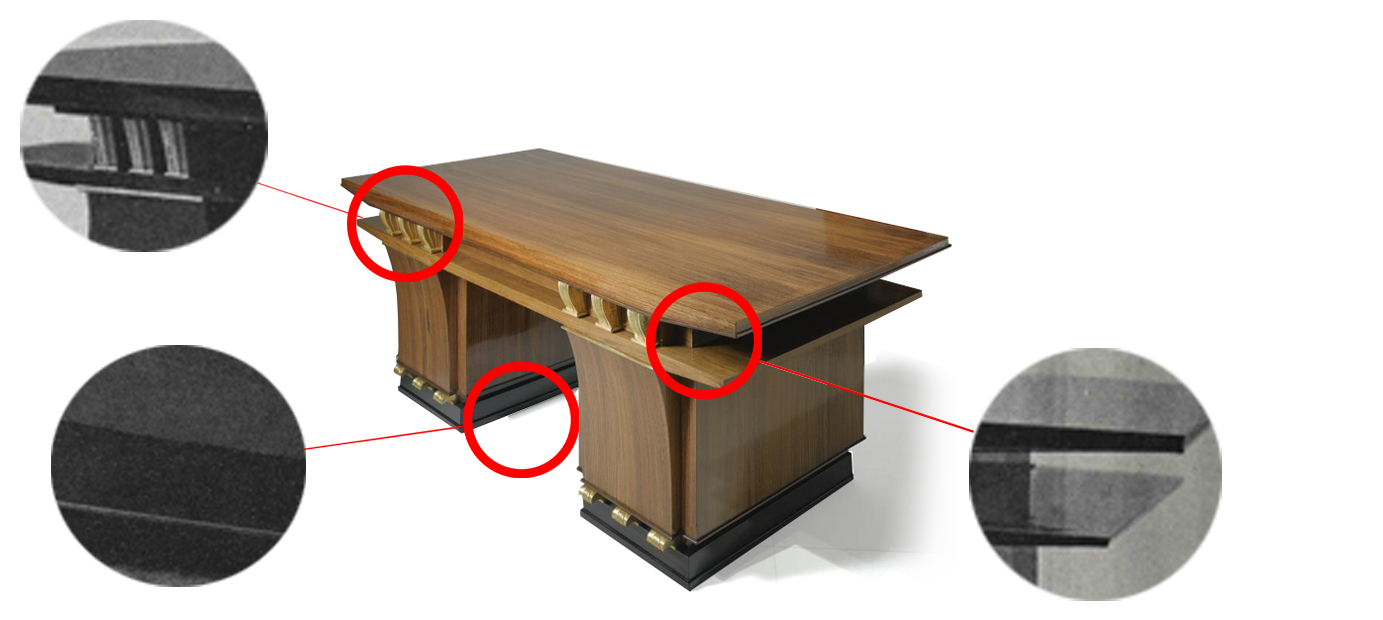 Exhibit #6
The armchair on the other hand, is completely incomparable to anything! Except maybe an electric chair…
Maxime Old did in fact make furniture for Luxury hotels, but never for an execution chamber… at least not to our knowledge! (Exhibit #7)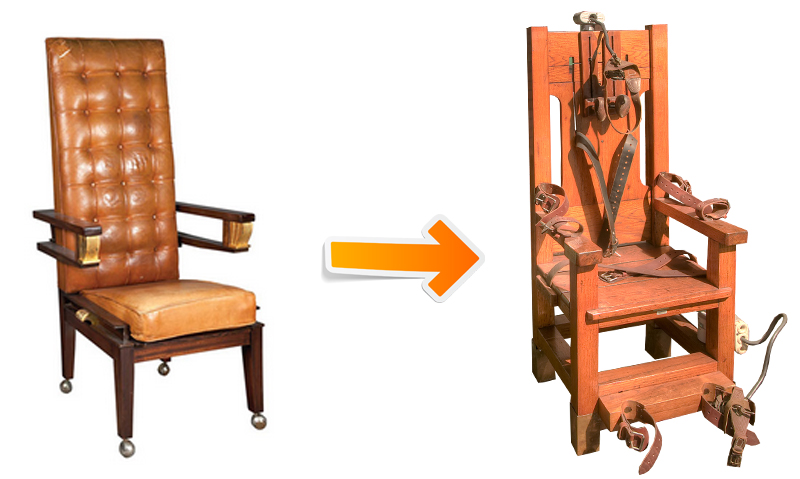 Exhibit #7
This is, without a doubt, a very bad replica of Maxime Old's desk. Every components of this desk is just wrong, and thinking that Maxime Old would make such a grotesque piece of furniture on wheels is absurd.
In order to support its claim, the Patrol contacted Olivier Old, Maxime Old's son, who confirmed our affirmation. Here is his answer: (Exhibit #8)
Exhibit #8
Translation:
Hello, At first glance, it looks like this desk is a bad replica of a model that I know. And I have in fact came across the desk model 1024 in my archives, and it is certainly not it, therefore assuring that this is definitely a replica that is falsely documented, and badly recreated. As for the armchair, my father would have ran the other way if he would have ended up face to face to such a disgraceful, talentless piece of furniture. It is the complete opposite of his work.
Great day, Olivier Old
This information was confirmed by a specialist in North America specialized in this prestigious artist's work: (Exhibit #9).
Exhibit #9
Translation:
It is not one of Maxime Old's works; at best, a crude replica. This is just an abominable chair. It is an insult to the artist.
There's nothing more to add.
With the presence of such differentiation and pseudo-similarities, between the desks and Maxime Old's work, we do believe that the designer of these pieces did not attempt to replicate this of Maxime Old's. But for some reason, the SOTHEBY'S "experts" decided to make it a "Real Fake!"
It is saddening to see that DOYLE blindly copied Sotheby's, and was therefore contaminated by this auction house's reputation. The contamination could have spread even more, but thankfully the patrol is watching. Knowing the quality of Maxime Old's work, it was inevitable that this furniture was a fraud, and even more insulting that it was kept on the market under his name, dirtying this artist's name and reputation.
The patrol did not try to look for the designer of the desk and the armchair. What the patrol can confirm is that it is in no way the fruit of Maxime Old's meticulous work.
As for SOTHEBY'S and DOYLE's so called "experts," they should have asked other auctioneers or art galleries for some real experts to take a look, and maybe it would have helped them overcome such a tough obstacle known as knowledge and expertise, making them look pretty ignorant and unprofessional.
Let's hope this article was not too "pathetic" … At least we tried to sugar coat it!
Case Closed!
How do we classify our files? Find out here.

Book 'em! The auction house or the art dealer provided little or no corroborating evidence in the form of documentation for this item.

Time Off! The expert made a significant mistake on this item. His attributed period came in way off. No early parole!

Missing persons alert! The auction house or the art dealer failed to uncover and identify the artist for this item.

Identity theft! They're guilty of the worst crime of all: mislabeling the artist with another alias. And Picasso painted the Mona Lisa, right?!
The Fact Sheet on DOCANTIC PATROL
The obsessive, nitpicky and no-holds-barred investigative team at DOCANTIC maintains an unparalleled database of original documentation for 20th Century, Art Nouveau, and Art Deco & Design furniture and works of art.
At DOCANTIC we believe that designers deserve proper identification for each work they have created, and that any art lover should confidently pay the right price for his or her purchase. We see the art world filled with both talented artists and con artist and, therefore, also riddled with innumerable attribution errors and outrageous pricing mistakes. By supplying authentic period photographs, DOCANTIC catches and apprehends the undervaluation (or overvaluation) of furniture and works of art. That's our mission. We stop errors dead in their tracks. We serve and protect 20th Century furniture's reputation.
Headquartered in Los Angeles, DOCANTIC sets the bar for the identification of 20th Century furniture, and shares with every art lover the information that has been kept under wraps by a handful of experts for far too long!