On June 2001, WRIGHT sold a table lamp at auction for $2,500, and improperly attributed it to Italian designer Gio Ponti. We fixed this!
At DOCANTIC, we investigate the proper identification of 20th Century furniture, and provide accurate documentation. Here's an example from our case files!
WRIGHT got pulled over by DOCANTIC PATROL for Identity theft violation: wrong artist!
On June, 10th, 2001, the lot #377 of WRIGHT's design auction sale's lot #377 was described as a brass lamp made by famous Italian designer Gio Ponti. But, inapt to firmly assign the work to the godfather of the Italian post-war design, the (yet renowned) auctioneer decides to attribute the lamp to the designer. After all, "Gio Ponti, attribution" has a nice ring to it (Exhibit #1).
Exhibit #1
Not only is this lamp by Oscar Torlasco, but it is the model #577 edited by Lumi (Exhibit #2).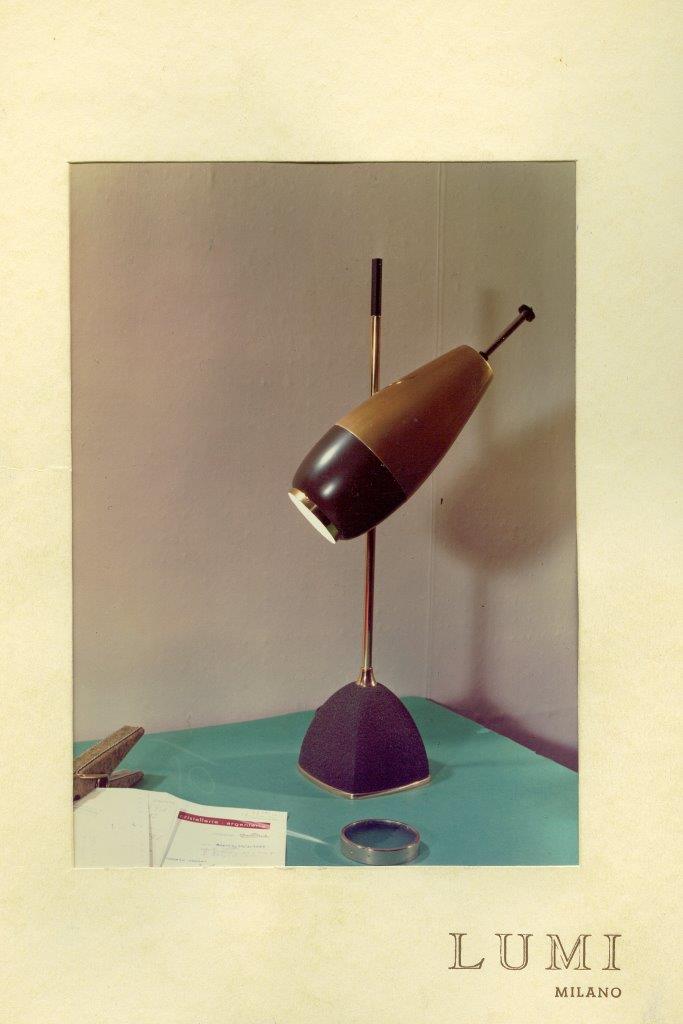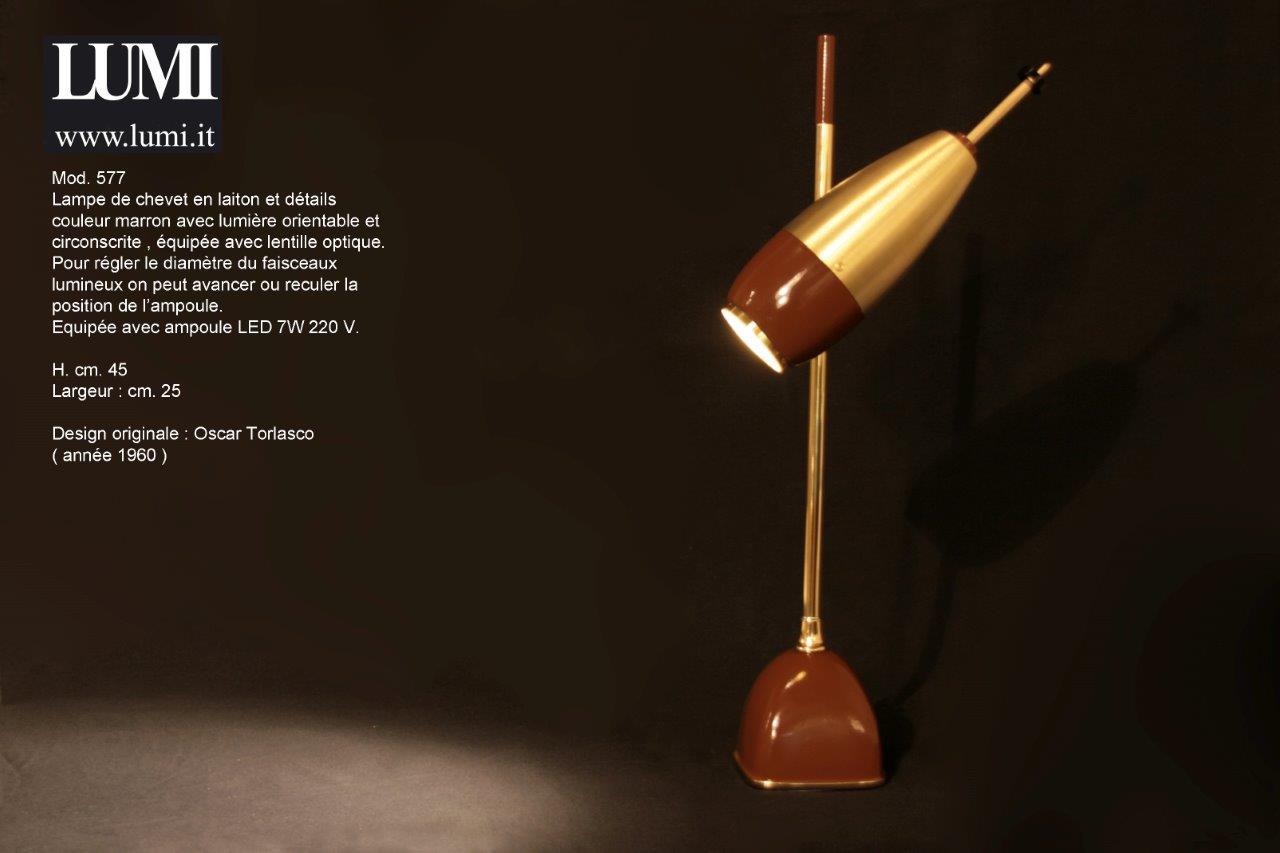 Exhibit #2
Yes, Oscar Torlasco and Gio Ponti are both Italian, were both active in the 50's and both had their piece of art edited by Lumi. However, those are the only similarities. Although Oscar Torlasco was much talented, he pales in comparison with the Domus magazine's founder, Director of Monza's Biennale and collaborator of Charles Eames & Piero Fornasetti. In an even more pragmatic way, their nearly impossible confusion is truly obvious as soon as we compare their auction records at PHILLIPS (Exhibit #3) or even their e-popularity on search engines (Exhibit #4).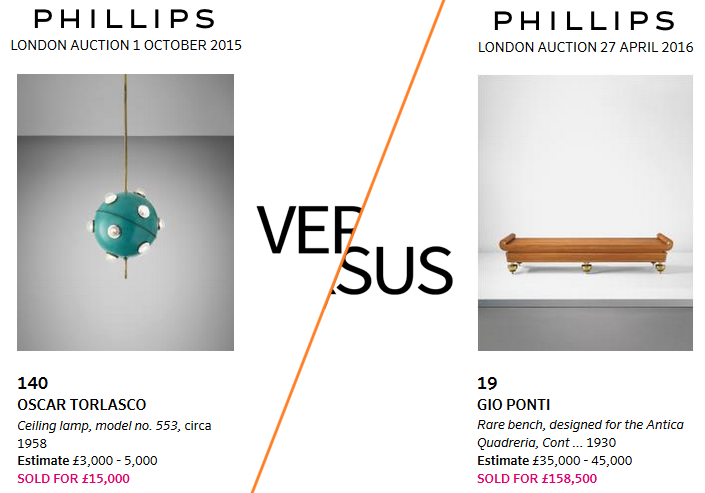 Exhibit #3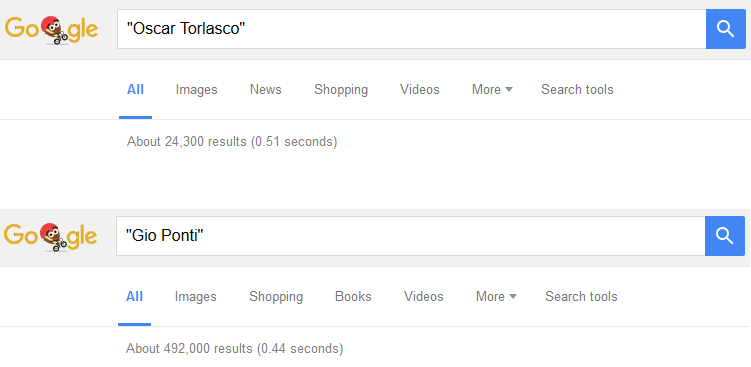 Exhibit #4
Twelve years later, on June 6th, 2013, the same mistake occurred in Paris at TAJAN (Exhibit #5). Mistake / TAJAN, a pleonasm.
Exhibit #5
The expertise process for a 20th Century artwork breaks down into three essential steps: identification, authentication, and finally, valuation. Failure to properly validate the first step will undoubtedly have major increasing consequences on the next ones, and especially on the sale price.
When it comes to identification, the auctioneer has two options:
1) He can either run some research, mobilize staff and resources, and therefore take the risk to falsely identify a small-value artist instead of a most-wanted, bankable designer.
2) Or, evade the issue by attributing the work to an attraction-dragging name. The job is poorly done, but it's costless. The works shine, and the chances to refund the potentially left buyer are negligible.
Since WRIGHT takes up to 25% in commission in buyer's premium and limits its guarantee to two years after the auction takes place, can't the buyer expect a minimum of research on their behalf?
How do we classify our files? Find out here.

Book 'em! The auction house or the art dealer provided little or no corroborating evidence in the form of documentation for this item.

Time Off! The expert made a significant mistake on this item. His attributed period came in way off. No early parole!

Missing persons alert! The auction house or the art dealer failed to uncover and identify the artist for this item.

Identity theft! They're guilty of the worst crime of all: mislabeling the artist with another alias. And Picasso painted the Mona Lisa, right?!
The Fact Sheet on DOCANTIC PATROL
The obsessive, nitpicky and no-holds-barred investigative team at DOCANTIC maintains an unparalleled database of original documentation for 20th Century, Art Nouveau, and Art Deco & Design furniture and works of art.
At DOCANTIC we believe that designers deserve proper identification for each work they have created, and that any art lover should confidently pay the right price for his or her purchase. We see the art world filled with both talented artists and con artist and, therefore, also riddled with innumerable attribution errors and outrageous pricing mistakes. By supplying authentic period photographs, DOCANTIC catches and apprehends the undervaluation (or overvaluation) of furniture and works of art. That's our mission. We stop errors dead in their tracks. We serve and protect 20th Century furniture's reputation.
Headquartered in Los Angeles, DOCANTIC sets the bar for the identification of 20th Century furniture, and shares with every art lover the information that has been kept under wraps by a handful of experts for far too long!