At DOCANTIC, we investigate the proper identification of 20th Century furniture, and provide accurate documentation. Here's an example from our case files!
TAJAN got pulled over by DOCANTIC PATROL for Identity theft violation: wrong artist!
Nearly 3 hours after the launch of COMMUNITY, DOCANTIC's brand new identification service, our clients are already satisfied with this new utility: One of our clients used COMMUNITY to figure out the name of the artist who made his pair of chairs. The member who came up with a verified response earned $100 for finding the answer, and for providing us with the correct documentation (Exhibit #1).

Exhibit #1
The concept of COMMUNITY is simple: someone who wants to know or confirm the artist of his or her piece of furniture can simply disclose the attribution issue on DOCANTIC. After it's been shared, each of our members who would like to do so can identify the right artist by giving us the correct documentation. Once the documentation is « APPROVED, » the member who is able to find the correct artist wins $100 as an award for helping out his or her fellow members.
This is exactly what one of our subscribers was able to do regarding the pair of chairs previously mentioned, by providing the client with an extract of Art et Décoration of 1937 (Exhibit #2). The $100 reward goes to him.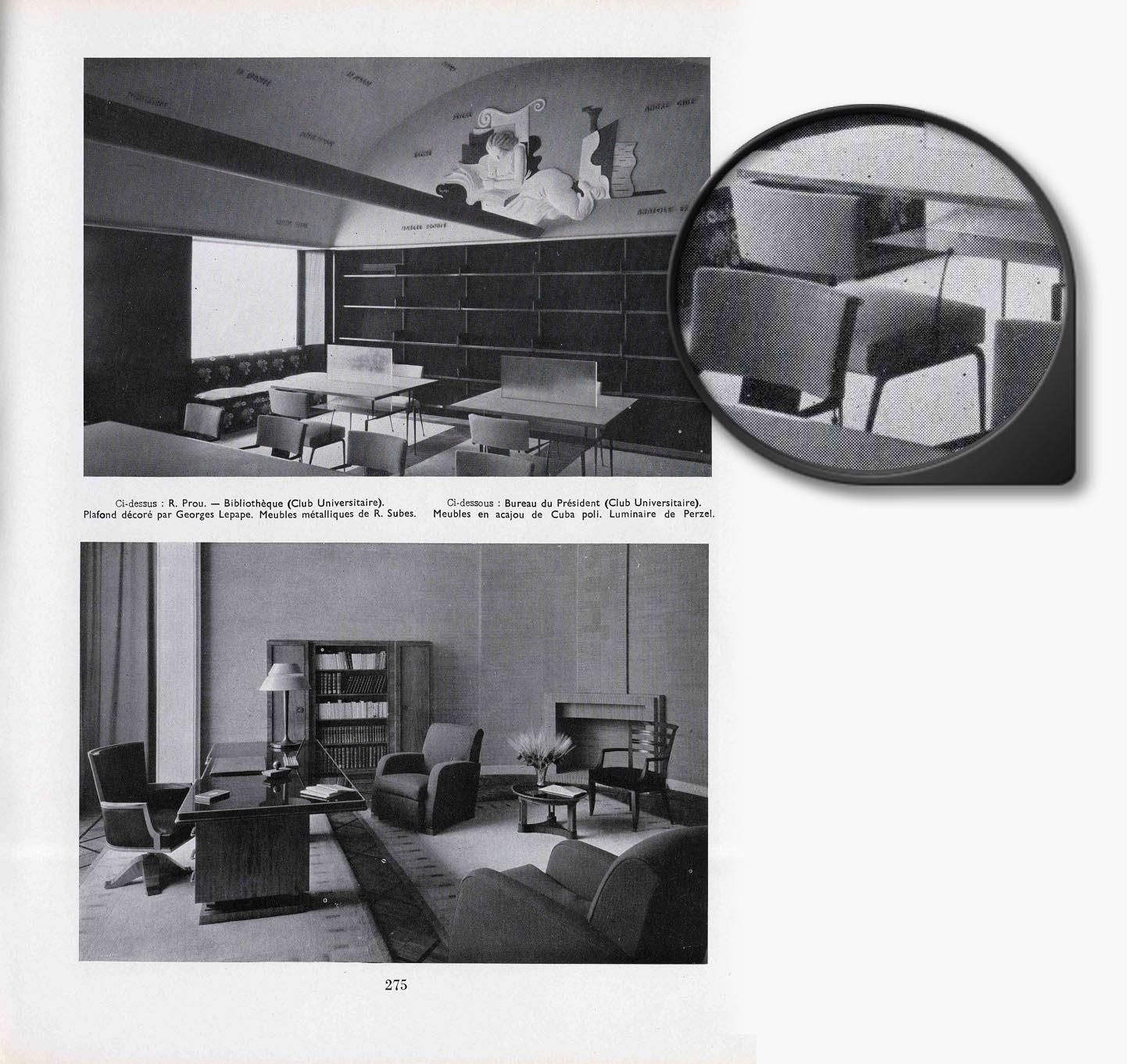 Exhibit #2
It is by taking a closer look at the evidence, that the PATROL's detectives discovered a shockingly high number of similarities with the chairs sold by TAJAN on March 18h, 2013 for 3 800 € (Exhibit #3).
It is highly possible that TAJAN blindly trusted someone else's expertise, since another auction house sold a similar pair in 2010. What is taught in school is also true in the business world: You don't succeed by cheating ... if you don't know, you don't know!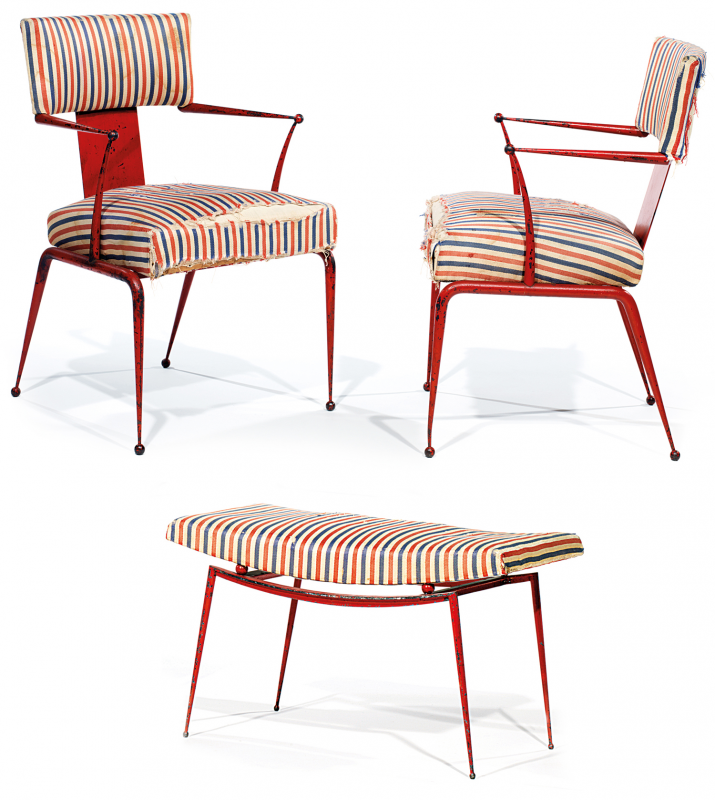 Exhibit #3
Those two pairs are identical to the model published in Art et Décoration of 1937 but, TAJAN attributed those chairs to Rene Prou… However, by identifying this article in depth, it is certain that Raymond Subes made these chairs. Seems like some people can read, while others believe that looking at the images is enough...
This attribution error leads to another serious problem: is the cost of items from Rene Prou the same as it is for Raymond Subes's work? Did the buyers overpay? To figure it out, the PATROL contacted a well-known appraiser, in order to get an appropriate estimate for the two items. Apparently, the two pieces of furniture from Raymond Subes, with the correct documentation, would have been presented in auction for: 8 000 € - 10 000 € (Exhibit #4) meaning TAJAN sold the chairs for 40% the actual price.
Exhibit #4
"In 2013, such a pair by Raymond Subes, along with the documentation, would have been sold in auction for approximately € 8,000 - € 10,000."
Let's keep our fingers crossed, and hope that TAJAN will rectify its error so that in the future, this auction house does not gamble with its reputation by misattributing the same pair of chairs to two different designers, like it did in 2005 and 2009. (Exhibit #5) In fact, it would be interesting to know who TAJAN will attribute the chairs to, if its auctioneers come across a similar pair...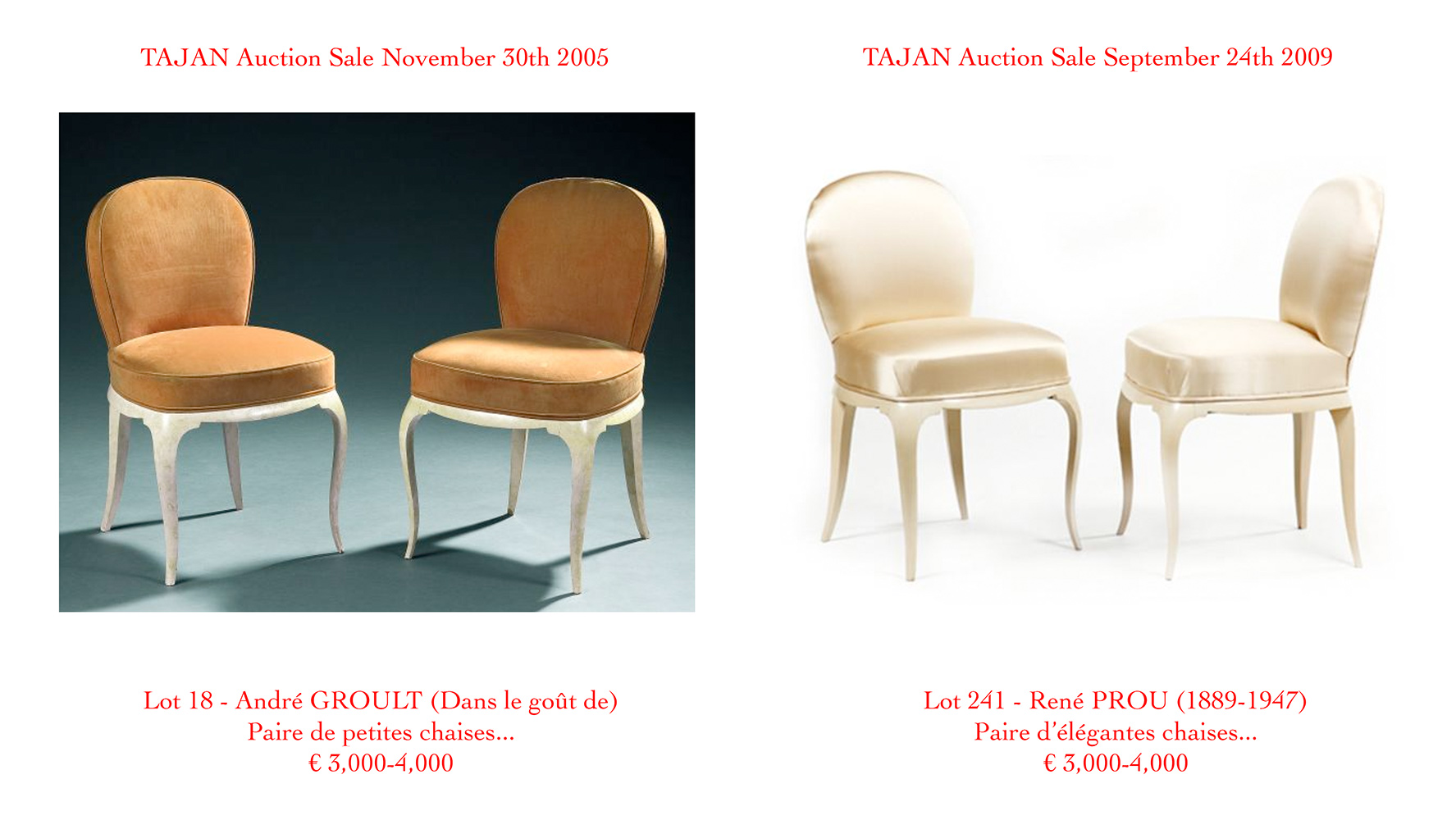 Exhibit #5
One positive outcome of this case is that the other auction house that possibly influenced TAJAN on the misattribution of the pair of chairs, will not commit this mistake again, since it now have access to DOCANTIC's documentation and research services.
You have an item to sell and want to make sure it is attributed to the correct artist? Publish your request in COMMUNITY, and engage our members in this search to find a reliable source providing you with the correct artist.
How do we classify our files? Find out here.

Book 'em! The auction house or the art dealer provided little or no corroborating evidence in the form of documentation for this item.

Time Off! The expert made a significant mistake on this item. His attributed period came in way off. No early parole!

Missing persons alert! The auction house or the art dealer failed to uncover and identify the artist for this item.

Identity theft! They're guilty of the worst crime of all: mislabeling the artist with another alias. And Picasso painted the Mona Lisa, right?!
The Fact Sheet on DOCANTIC PATROL
The obsessive, nitpicky and no-holds-barred investigative team at DOCANTIC maintains an unparalleled database of original documentation for 20th Century, Art Nouveau, and Art Deco & Design furniture and works of art.
At DOCANTIC we believe that designers deserve proper identification for each work they have created, and that any art lover should confidently pay the right price for his or her purchase. We see the art world filled with both talented artists and con artist and, therefore, also riddled with innumerable attribution errors and outrageous pricing mistakes. By supplying authentic period photographs, DOCANTIC catches and apprehends the undervaluation (or overvaluation) of furniture and works of art. That's our mission. We stop errors dead in their tracks. We serve and protect 20th Century furniture's reputation.
Headquartered in Los Angeles, DOCANTIC sets the bar for the identification of 20th Century furniture, and shares with every art lover the information that has been kept under wraps by a handful of experts for far too long!